Things are turning hotter in the crypto world. Though Bitcoin has yet to shine bright in 2022, altcoins may be up for another great year.
Microsoft's entry into metaverse, with its acquisition of the video game publisher Activision Blizzard, shines the spotlight again on blockchain. Metaverse aside, a few other sub-categories within distributed ledger technology are also drawing interest. One of these is decentralized finance or DeFi.
DeFi is the shift of finance from the presence of a single centralized authority in any network to peer-to-peer network.
What is Arcade Network?
Arcade Network claims to help users move their digital assets from one metaverse to another.
For example, a virtual asset like a petrol pump in the metaverse of PolkaCity may be transferred to the gaming verse of Axie Infinity using Arcade services. This platform is named 'ARC Relayer Bridge' by the network.
Arcade Network would also allow developers build and deploy their blockchain-based games using the 'ARCVerse'. It claims that developers that lack resources and graphics can create their metaverse. The last offering of the Arcade Network is ARC Notecase, which is a wallet that can hold NFTs and other crypto assets.
Also read: Best crypto exchange in Canada: Here are the top contenders
What is Arcade Token?
ARC coin is a blockchain-based cryptocurrency, which finds use within the Arcade Network ecosystem.
The project claims that ARC token would provide incentives to the users when they redeem their assets in ARC cryptocurrency instead of fiat currency. ARC tokens also serve as rewards for engagement. The token can be used to purchase gaming assets, essentially meaning it is the native token of the network.
How much is Arcade coin worth?
Arcade Network crypto is presently trading at nearly US$0.05 per token.
Over the past 24 hours, the token has gained over 40 per cent, and the trading volume has also gone up by 450 per cent. That said, ARC token has a very low market cap of nearly US$507,000, according to CoinMarketCap. Nearly 9.6 million ARC tokens are in supply, and the maximum token supply can be 229 million.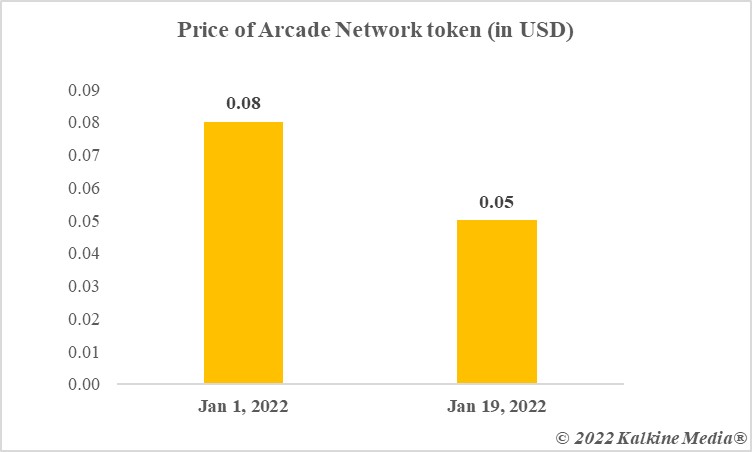 Data provided by CoinMarketCap.com
Arcade network crypto price prediction
On a year-to-date (YTD) basis, ARC token has lost value. But this is a trend that has gripped the entire crypto market as of now.
After Microsoft's metaverse move, things may move at a greater speed. Arcade Network claims to be a bridge between different metaverse projects. By this measure, ARC token may find more usage. The increased demand of the token may take the price to nearly US$0.10 by the end of this month. Price is a product of demand of any crypto, and hence, Arcade Network will have to prove its utility.
Also read: The top crypto gainers of 2021, and a couple of underperformers
Bottom line
Metaverse tokens are in demand, and digital assets within these fictional worlds are at the heart of this craze. Arcade Network crypto claims to help move assets from one game to another. ARC token may be a pick for those investors that believe metaverse would shine further in 2022.