7 hr 26 min ago
US vice president warns that Russia's invasion of Ukraine threatens democracy across Europe
From CNN's Sam Fossum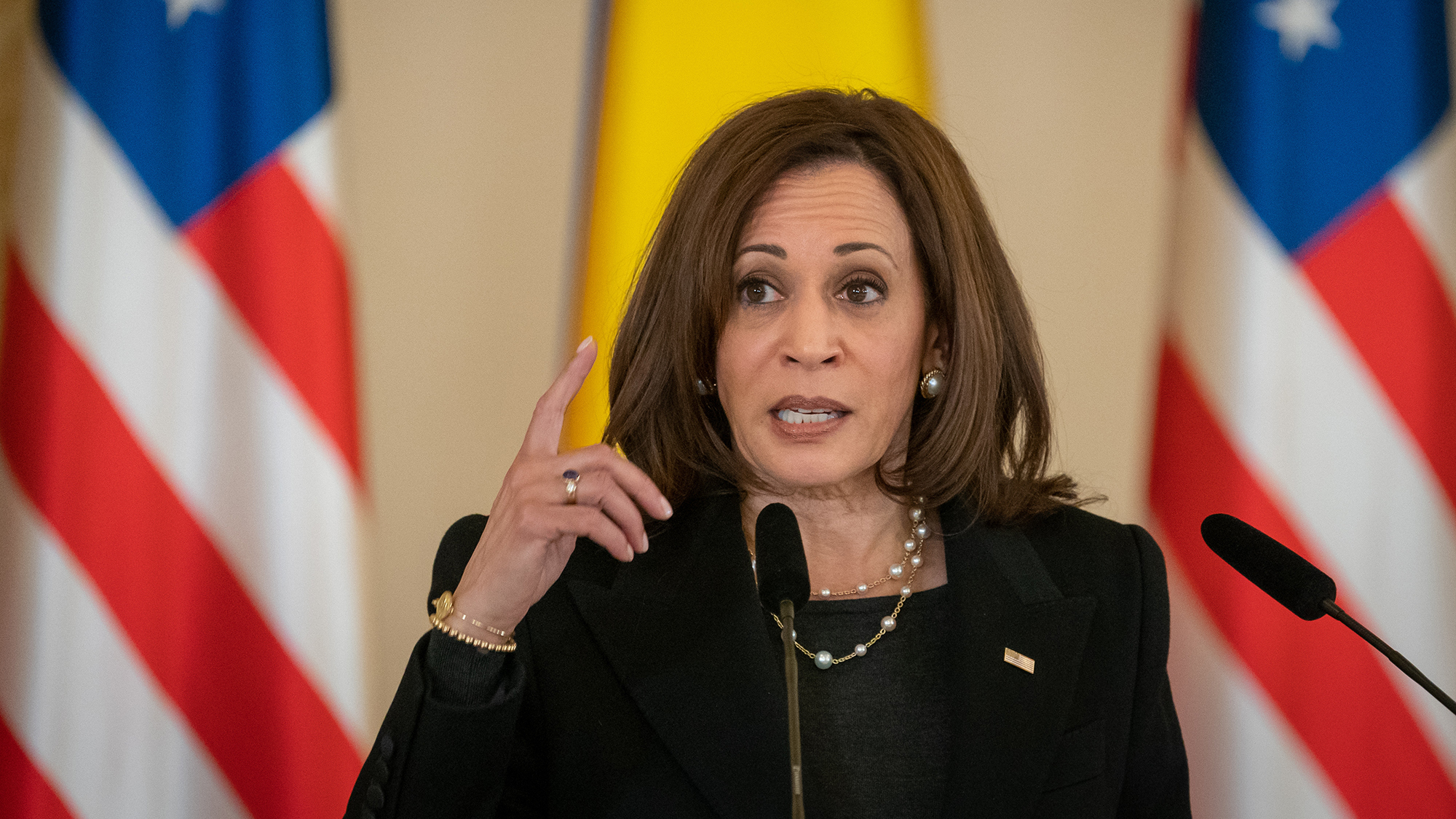 US Vice President Kamala Harris highlighted the unity between the US and its NATO and European allies and warned that Russia's unprovoked invasion of Ukraine poses a threat to all democracies.
"Russia's invasion threatens not just Ukraine's democracy; it threatens democracy and security across Europe," Harris said at the Democratic National Committee's winter meeting on Saturday in Washington, DC.
"The ocean that separates us will not leave us untouched by this aggression," she said.
Harris, speaking about her recent trip to Poland and Romania, said she emphasized that the "greatest strength" of the alliance is its unity.
"The United States stands firmly with the Ukrainian people in defense of the NATO alliance," Harris said to applause from the crowd.
Harris also told the attendees about meeting with a Moroccan student who had fled Ukraine and the plight of millions of refugees fleeing the Russian onslaught.
7 hr 34 min ago
Ukraine's foreign minister doubtful about prospects for negotiated settlement with Russia
From CNN's Tim Lister in Kyiv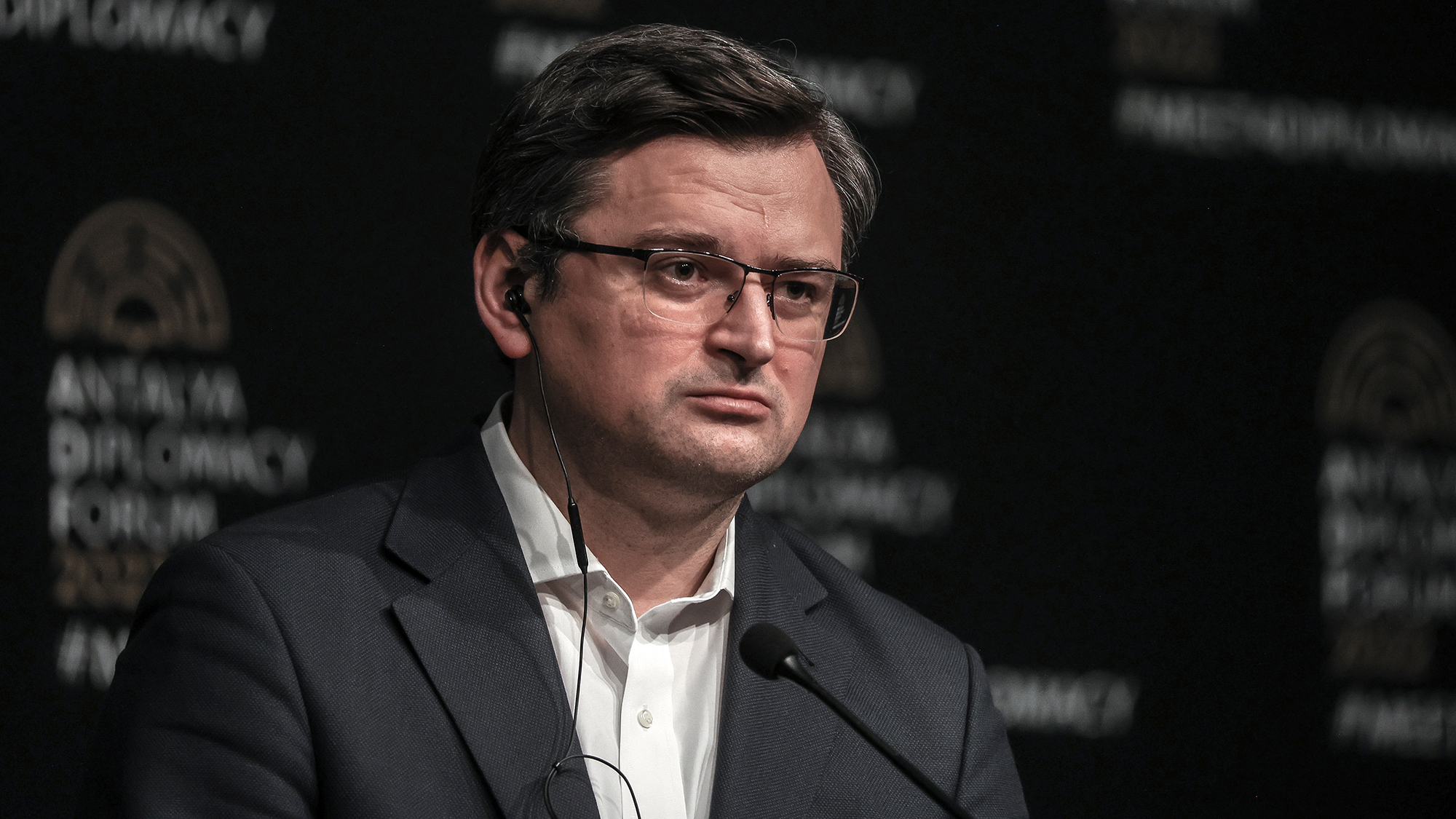 Ukrainian Foreign Minister Dmytro Kuleba is holding out little hope for a negotiated settlement to end Russia's invasion of Ukraine.
"There is little space for diplomacy in [Russian President Vladimir] Putin's mind," he told a US policy forum. "We have to keep the channel of diplomacy open," while being aware of "the attempts of Russia to publicly manipulate this track."
"We are talking, but Russia still puts forward demands which are unacceptable for us. We will not make any compromises on the existential issues for Ukraine," he said.
Kuleba's pessimistic outlook coincided with a call among Putin, French President Emmanuel Macron and German Chancellor Olaf Scholz earlier Saturday. 
A French official told CNN that Putin seemed still to be "determined to achieve his objectives in Ukraine" but the fact that he continues to speak to the French and German leaders suggests that "he does not exclude the possibility of a diplomatic solution altogether."
Kuleba said he believed the removal of Putin as Russian president would be enough to stop the conflict.
He was grim about the consequences of the war, saying it will make Ukrainians hate Russia. "We will not forgive them for generations," he said.
He also said Belarus' leader Alexander Lukashenko was under enormous pressure from Moscow to commit forces to the invasion.
8 hr 26 min ago
It's just after 7 p.m. in Kyiv. Here's what you need to know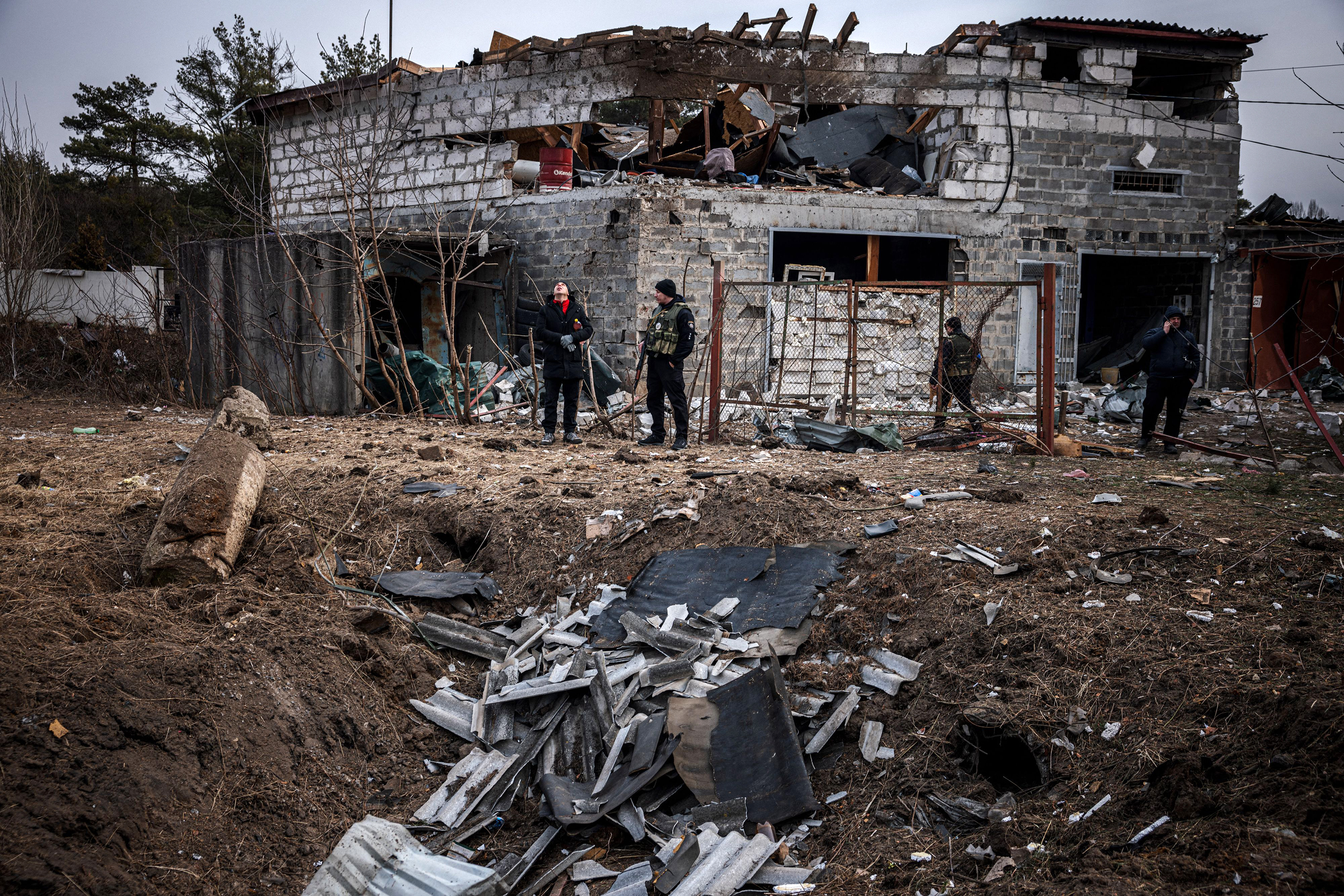 Tensions remain high as night falls in the capital of Ukraine more than two weeks after Russia invaded the country.
These are the latest updates you should know now:
Russian forces inch closer to Kyiv: CNN teams in Kyiv reported hearing explosions in the early hours of Saturday, as the capital comes under pressure. The bulk of Russian ground forces are about 25 kilometers (15.5 miles) from Kyiv's center, according to British defense officials. Russian strikes continue to hit civilian structures: A landmark hotel in the northern city of Chernihiv was reduced to rubble overnight as well as the local electricity network.
Zelensky says "front line" is everywhere: While Ukrainian President Volodymyr Zelensky said his country is more united than ever as it faces the Russian invasion, he said "a few small towns just don't exist anymore. … They are just gone." He added that negotiations to end Russia's invasion of Ukraine "must begin with a ceasefire."
He also called for the immediate release of Ivan Fedorov, the mayor of the city of Melitopol who was arrested by armed men on Friday.
Ceasefire urged: German Chancellor Olaf Scholz and French President Emmanuel Macron urged Russian President Vladimir Putin to call an immediate ceasefire in Ukraine during a 75-minute call on Saturday. The calls for a ceasefire come as the UN reports at least 1,500 civilians have suffered casualties since the start of the war on Feb. 24.
Ukrainians say Russians demand control of nuclear plant: Russian officials have arrived to Ukraine's largest nuclear power plant, demanding to take control of the facility, according to a statement from Energoatom, Ukraine's state-operated nuclear energy company.
Attacks on key cities: CNN journalists in the central Ukrainian city of Dnipro felt at least two explosions and saw what looked like the remnants of anti-aircraft fire early Saturday. The cities of Kharkhiv, Mariupol, Mykolaiv and Sumy are also under a sustained Russian onslaught. This comes as Russian forces expanded their offensive to the west of Ukraine for the first time on Friday, with strikes targeting military airfields, including one in Vasylkiv, south of Kyiv, on Saturday. To the east, there's growing evidence that the town of Volnovakha has fallen to Russian forces and their allies in the self-declared Donetsk People's Republic. The southern city of Kherson appears to have been captured, according to US defense intelligence.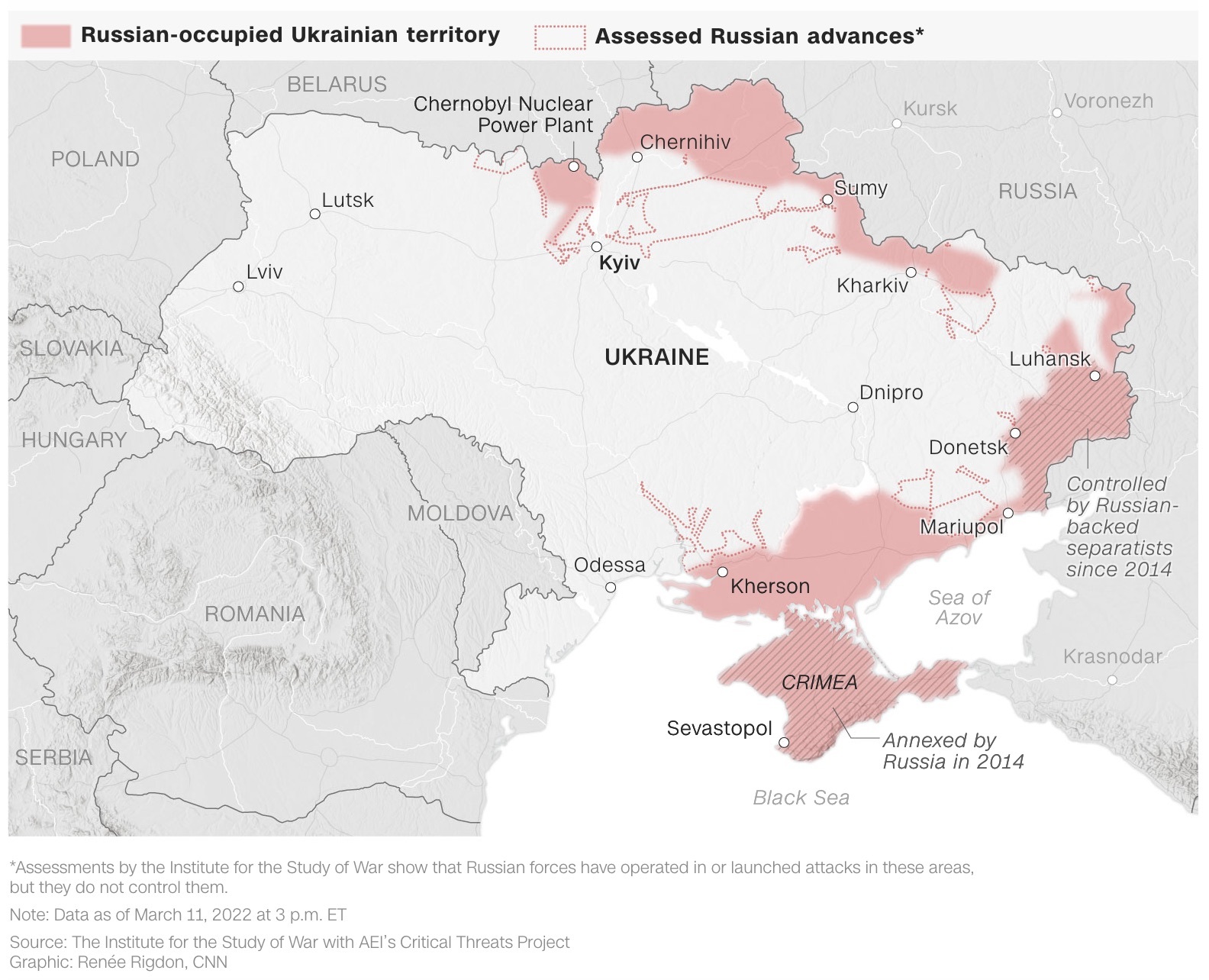 4 hr 41 min ago
Putin still "determined" to achieve his objective in Ukraine, says French presidency source
From CNN's Melissa Bell in Paris
Russian President Vladimir Putin's state of mind remains "determined," according to an Elysee source speaking after a Saturday afternoon phone call among French President Emmanuel Macron, German Chancellor Olaf Scholz and Putin.
The source said that since the three leaders last spoke on Thursday, Putin seemed to still be "determined to achieve his objectives in Ukraine," but that the fact that he continues to speak to the French and German leaders suggests that "he does not exclude the possibility of a diplomatic solution altogether."
A source close to Macron and familiar with the conversation told CNN's Jim Acosta that Macron was disappointed with Putin's "insincerity" during the call, but that the French president remains committed to diplomatic solutions to end the conflict, including coordinated sanctions, banning Russia from activity within the international community, and a "continued firm and denuding dialogue." 
Earlier Saturday, Ukrainian President Volodymyr Zelensky asked Macron to press Putin for a ceasefire and to raise the issue of the detention of the mayor of Melitopol. The source said Macron and Scholz had done so.
"We pleaded for an immediate ceasefire," the source said, "and for the start of negotiations on three points: the questions relative to security, those that relate to Ukrainian sovereignty and third, those issues raised by both Ukraine and Russia recently."
Further sanctions are being planned by both the G7 and the European Union, the source said. The fresh European sanctions will be discussed next week in Brussels and will be aimed at sanctioning recent actions by Russian troops in Ukraine, the siege of Mariupol and the advance of Russian troops along the Dniepr River.
Asked about the possibility of European sanctions on Russian energy exports, the source repeated what Macron had said at the leader's summit in Versailles on Friday that nothing was "taboo," with no option off the table.
CNN's Jim Acosta contributed to this report.
8 hr 53 min ago
UN says there have been more than 1,500 civilian casualties — including 42 children killed — in Ukraine so far
From CNN's Mia Alberti
The United Nations has recorded 1,581 civilian casualties — 579 who were killed and 1,002 injured — since the start of the Russian invasion of Ukraine on Feb. 24.
Among the dead are 42 children, with 54 children among the injured, according to the UN's latest report on civilian casualties. The largest number of victims was recorded in areas still under Ukrainian government control. 
"Most of the civilian casualties recorded were caused by the use of explosive weapons with a wide impact area, including shelling from heavy artillery and multi-launch rocket systems, and missile and air strikes," according to the UN report.
The organization's human rights office believes the actual number of casualties is "considerably higher especially in Government-controlled territory and especially in recent days" after reports of intense hostilities in regions such as Kharkiv, Mariupol and Donetsk, "where there are allegations of hundreds of civilian casualties."
9 hr 13 min ago
Russia sends warning to the US about transferring weapons to Ukraine, according to state media
From CNN's Maija Ehlinger
Russian Deputy Foreign Minister Sergei Ryabkov warned the United States about the potential consequences of transferring weapons to Ukraine, saying convoys with foreign weapons would be "legitimate targets." 
Ryabkov made these comments on Saturday on the state-run Channel One, according to Russia's state-owned RIA Novosti news agency. 
"We warned the United States that pumping Ukraine with weapons from a number of countries orchestrated by them is not just a dangerous move, but these are actions that turn the corresponding convoys into legitimate targets," he added. 
Read more about the US and its NATO allies' efforts to assist Ukraine: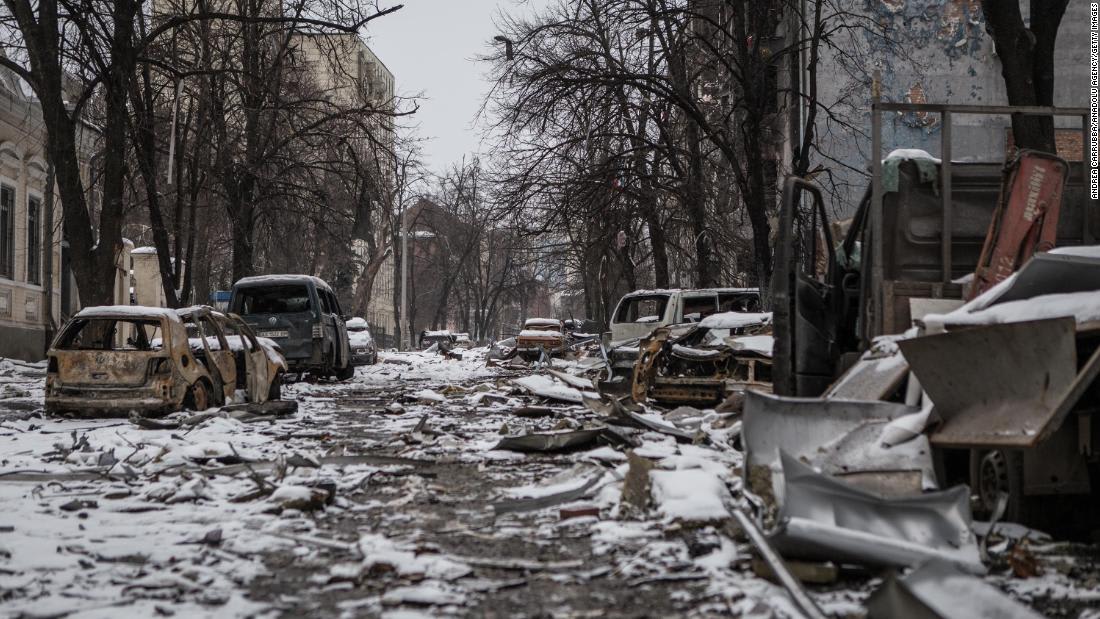 8 hr 59 min ago
All of Ukraine is "a front line," Zelensky says, adding some "small towns just don't exist anymore"
From CNN's Yulia Kesaieva and Ivana Kottasová in Lviv and Eleanor Pickston in London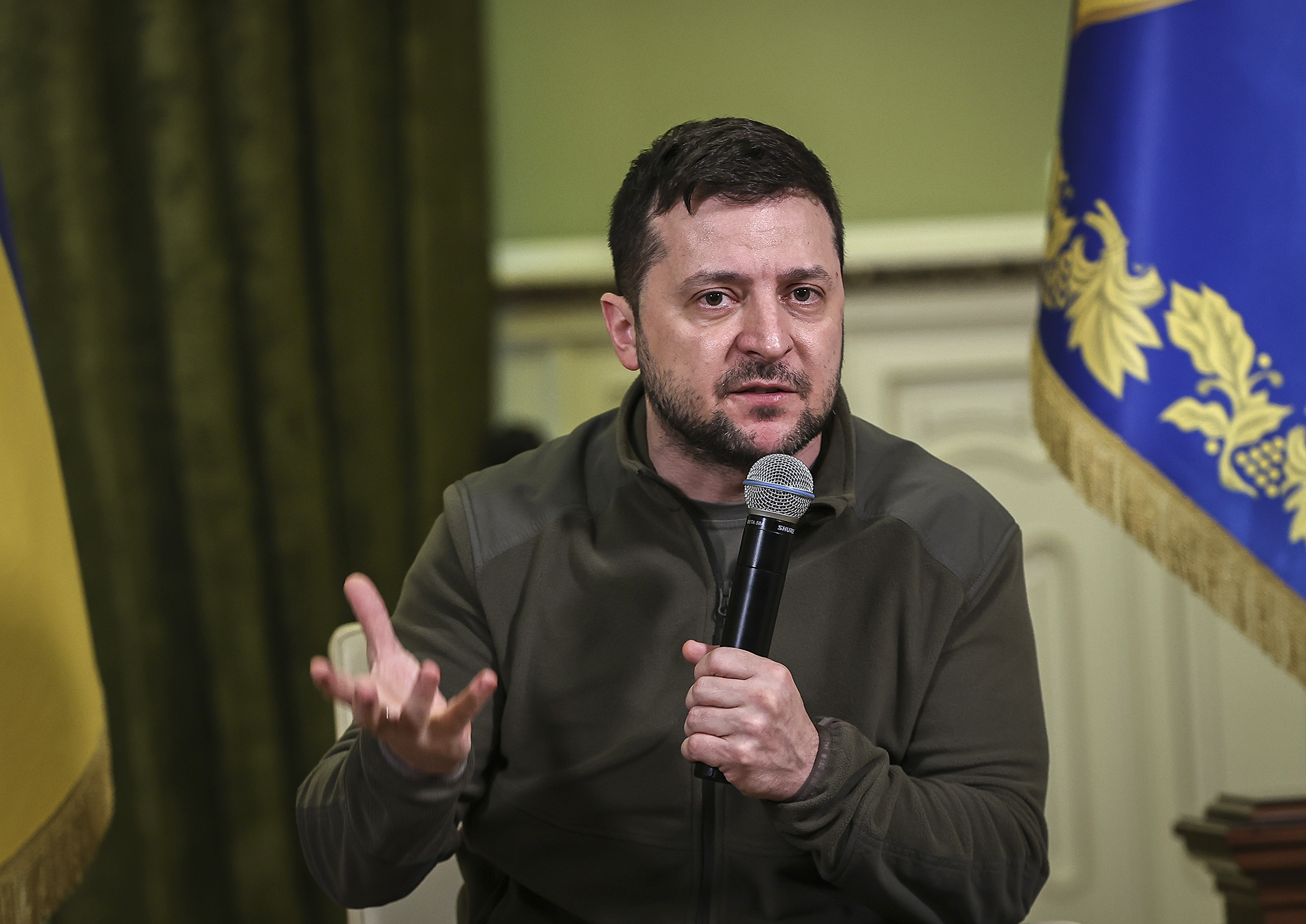 Ukrainian President Volodymyr Zelensky said his country is more united than ever as it faces the Russian invasion.
"This war, a difficult war, has truly united our nation. You are asking me how's the situation on the front line … there's a front line everywhere," Zelensky said in a briefing on Saturday.
"A few small towns just don't exist anymore. And this is a tragedy. They are just gone. And people are also gone. They are gone forever. So we are all on the front line. The people who died there, they died among us," he said.
Zelensky said Ukraine has lost approximately 1,300 troops as of Saturday.
He added that negotiations to end Russia's invasion of Ukraine "must begin with a ceasefire."
"Our diplomats are working on the details of the agenda of the possible meeting of Ukrainian and Russian delegations," he said. "I would like this to happen. So we can actually, not just on words, start the process of settlement, peace and the end of war."
"This is how the end to war starts in a civilized world," he said.
Zelensky said that Russian and Ukrainian negotiators have begun to talk rather than "exchange ultimatums" and that he is "pleased" with signals from the Russian Federation.
The Ukrainian president said he was hoping diplomacy could bring peace, saying there was "a signal" coming from the Russian side about being ready to negotiate, although he gave no details on what this signal was.
Zelensky emphasized that Western partners need to be more involved in discussions and even provide their own security guarantees to Ukraine, as Ukraine will "never be able to trust Russia after such a bloody war."
He hit out at NATO nations for its reluctance to impose a no-fly zone over Ukraine, saying that the members "lack the courage to come together for Ukraine" and that there is "no agreed position" on whether Ukraine can join the alliance. Zelensky said his country is grateful for the bilateral support Ukraine has received from certain NATO countries but added that his country is "suffering now."
5 hr 44 min ago
White House directs additional $200 million drawdown for defense services to Ukraine
From CNN's DJ Judd and Jasmine Wright 
In a memorandum Saturday, US President Joe Biden delegated Secretary of State Antony Blinken to direct the drawdown of $200 million in defense articles and services, including military education and training, for Ukraine. 
Per the Department of Defense, the Foreign Assistance Act of 1961 (FAA) allows a president to authorize the "disposition of United States property or services," a drawdown, to foreign nations without legislative authority or budgetary appropriations, which is typically deployed in case of an emergency in a foreign country or region. 
Under such circumstances, an "ad hoc interagency process" including representatives from the National Security Council, Department of Defense and State Department "determines which existing statutory authority applies to the situation and identifies which articles and services should be provided" — in this case, education and training for Ukrainian military forces.
Per a White House official, today's announcement brings the total amount of security assistance provided to Ukraine to $1.2 billion in the past year. Earlier this month, the administration authorized a $350 million drawdown package, which another official told reporters constitutes "the largest presidential drawdown package in history."
An administration official said the $200 million drawdown will provide "immediate military assistance to Ukraine."
This will include "anti-armor, anti-aircraft systems, and small arms in support of Ukraine's front line defenders facing down Russia's unprovoked attack," the official said.
CNN's Arlette Saenz contributed to this report.
9 hr 31 min ago
Ukrainian officials accuse Russians of planning a referendum for "independence" in southern region
From CNN's Paul Murphy, Tim Lister and Julia Kesa
A senior Ukrainian official in the southern region of Kherson, which is now under Russian occupation, has said that the Russians are pressing the regional council to agree to a referendum on the area's "independence" from Ukraine.
Serhiy Khlan, a deputy of the Kherson regional council, said "the occupiers are preparing a referendum on the creation of the People's Republic of Kherson."
He said local deputies were being called to ask if they are ready for "cooperation."
"I flatly refused to co-operate with them," Khlan said.
"The creation of the People's Republic of Kherson will turn our region into a hopeless hole without life and future."
He urged deputies to refuse to cooperate.
After Russian-backed separatists took control in 2014 of parts of the Luhansk and Donetsk regions, people's republics were declared in both areas. 
There's been no word from the Russian side about any referendum plans.