NBC News
5m ago / 12:16 PM UTC
Ukrainians cross an improvised path under a destroyed bridge while fleeing Irpin, on the outskirts of Kyiv, Wednesday.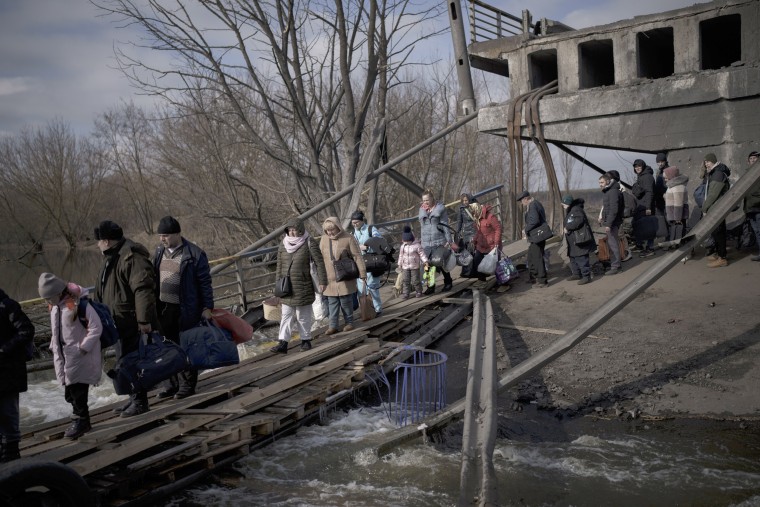 Ukraine's president says allies must 'close the sky' over Ukraine
Chantal Da Silva, Courtney Kube and Peter Alexander
7m ago / 12:14 PM UTC
Ukrainian President Volodymyr Zelenskyy has said Ukraine's allies will "share the responsibility" for the "humanitarian catastrophe" unfolding in his country if they do not "close the skies" over the nation. 
Zelenskyy said Ukraine had asked its partners to create a no-fly zone over Ukraine "from the first day" of the conflict. 
Now, 14 days later, he said, Ukraine continues to come under "constant bombing."
"Russia has been using missiles, helicopters, aviation against us, civilians, cities, infrastructure," Zelenskyy said. "This is a humanitarian obligation for the whole world to react — but there is no decision."
Zelenskyy said he was grateful to Poland for its willingness to supply Ukraine with Soviet-era fighter jets in a plan that would see Poland offer up old Russian-made MiG fighters, with the U.S. replacing them by sending F-16 jets to Warsaw. 
That proposal appeared to hit a snag on the U.S. side, however, with three U.S. officials telling NBC News that the Biden administration was reviewing whether the plan is feasible. The officials cautioned that such a plan was unlikely to be enacted any time soon.
"It's a lot easier to give hand-held weapons than it is to transfer a plane," a source familiar with the discussions said on Monday. The U.S. also does not have a surplus of F-16s, officials said.
Zelenskyy struck out at the uncertainty, asking when a decision would be made.
"We are at war, we have no time for these signals. It's not a ping pong game — it's human lives we are talking about," he said. "We ask again — don't toss responsibility, just send us the planes."
Carol E. Lee and Dan De Luce contributed to this post.
Ukraine facing major regional internet outages as Russian invasion continues
Internet outages in Ukraine are becoming more common — with at least one city almost completely offline for a week — as Russia continues its advance on the country, cutting off civilians' connections with the rest of the world.
While war zones are inherently hectic, the British ministry of defense warned Monday that "Russia is probably targeting Ukraine's communications infrastructure in order to reduce Ukrainian Citizens' access to reliable news and information."
John Spencer, the chair of urban warfare studies at the Madison Policy Forum in New York City, said that eliminating communications infrastructure is often a first objective for an invading army.
"Step one of invading a country is to take out the enemy's ability to talk to each other," he said.
Read more here. 
Chernobyl nuclear power plant disconnected from power grid, officials say
Chantal Da Silva
43m ago / 11:38 AM UTC
Ukrainian officials said Wednesday that the Chernobyl nuclear plant was disconnected from the national power grid due to Russia's military actions. 
"BECAUSE OF MILITARY ACTIONS OF RUSSIAN OCCUPIERS NUCLEAR POWER PLANT IN CHERNOBYL WAS FULLY DISCONNECTED FROM THE POWER GRID," the  Ukrainian Mining and Energy Ministry said on its Facebook page.
Energoatom, Ukraine's nuclear power operator, warned that the situation could lead to the release of radioactive substances because the plant cannot cool spent nuclear fuel without a power connection. 
"The wind can transfer the radioactive cloud to other regions of Ukraine, Belarus, Russia and Europe," it warned in a Telegram post.
It also said that if the situation continued, "all personnel there will receive a dangerous dose of radiation."
Ukraine's parliament, known as the Verkhovna Rada, also announced the development on its official Telegram channel, warning that the nuclear plant had been cut off from the power supply.
It said there was no possibility of restoring the lines due to ongoing fighting and said the city of Slavutich was also disconnected from the power supply. 
NBC News has contacted the International Atomic Energy Agency for comment but has not yet had a response. We are also attempting to get comment from the Russian government. 
NBC News
59m ago / 11:22 AM UTC
Diners at a McDonald's restaurant in Moscow on Wednesday as some major brands continue to pull out of Russia.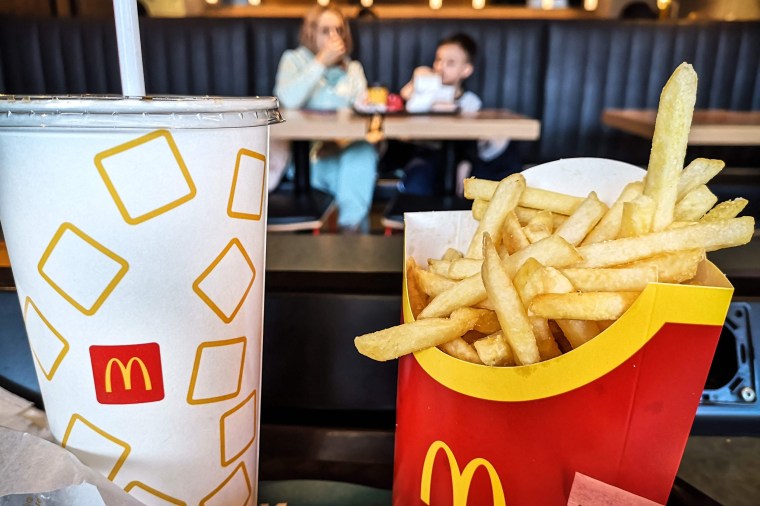 Workers nuclear power plant 'exhausted' after being held hostage for days, minister says
Chantal Da Silva
1h ago / 11:04 AM UTC
Workers at a nuclear power plant that was attacked and taken over by Russian forces have been left "physically and psychologically exhausted" after being held hostage for four days, Ukraine's energy minister has said.
In a Facebook post Tuesday, Ukrainian Energy Minister Herman Halushchenk accused Russian forces of torturing staff at the Zaporizhzhia plant.
"There are about 500 Russian soldiers and 50 units of heavy equipment inside the station," he said. 
Halushchenk called on Ukraine's international partners "to take all measures to withdraw Russian occupation forces from captured nuclear objects and close the sky over Ukraine."
The energy minister also warned that "a breakdown at a nuclear power plant due to the use of weapons by Russian troops will lead to a disaster for the whole of Europe. The responsibility for this will be entirely on Russia."
Russians flee Putin's crackdown as Ukraine invasion reshapes Moscow's future
With Russia cracking down on dissent and being hit with more international sanctions than Iran and North Korea, some fear a new "Iron Curtain" may be closing as Putin leaves his country deeply isolated both culturally and economically from a scornful world.
"We were very scared," said Aglaia, a student and activist who managed to get a rare plane ticket Thursday with her family to the Armenian capital, Yerevan, one of the few nearby places where Russian flights aren't banned. "We just had this feeling of deep, deep sadness — but also mixed with anger."
Read more here. 
Ukraine renews effort to free civilians as isolated Russia promises cease-fires
Ukraine launched a fresh effort to evacuate residents from battered areas across the country Wednesday, a day after thousands escaped the Russian assault through the war's first successful safe corridor.
Russian forces have besieged Ukrainian cities but struggled to make progress in their military offensive after nearly two weeks of an increasingly devastating war. Hundreds of civilians have died and more than 2 million people have fled to neighboring countries in the fastest-growing refugee crisis in Europe since World War II.
Read more here. 
E.U. expands sanctions against Russian oligarchs and Belarusian banks
Mithil Aggarwal
2h ago / 10:26 AM UTC
The European Union has approved new sanctions against more Russian oligarchs and their families, the E.U. Council's French presidency announced on Wednesday.
Three Belarusian banks will be excluded from the SWIFT payment clearing system and cryptocurrencies will also be affected by the new measures, it said in a tweet.
Sanctions targeting the maritime industry were also approved by the Council's permanent member states.
NBC News
2h ago / 10:24 AM UTC
Women and children cross into Poland at the Hrebenne border on Wednesday.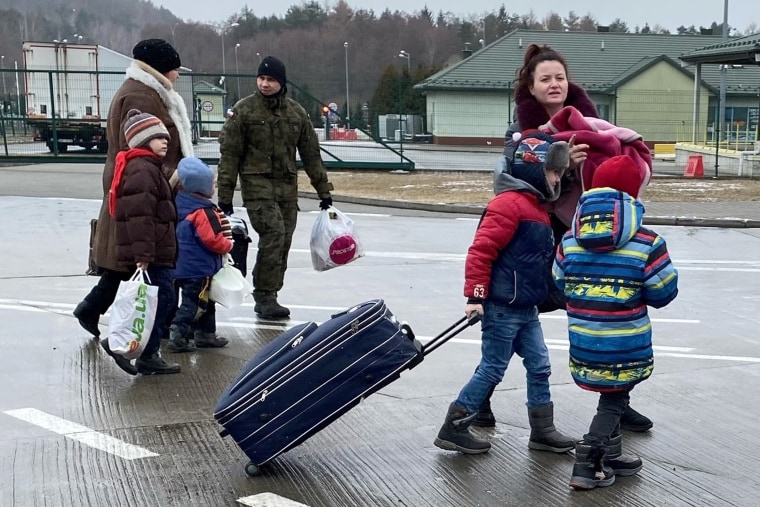 As millions flee, many are entering Ukraine — some to join the resistance, officials say
Chantal Da Silva
2h ago / 10:14 AM UTC
As millions flee Ukraine, thousands of people are also entering the country, with many determined to join the fight against Russia's invasion. 
On Tuesday night alone, the State Border Guard Service of Ukraine said as many as 14,500 people had arrived in the country. 
Almost 12,000 of them were Ukrainians, mostly men planning to join the country's defense. It is unclear which nationalities were represented among the outstanding 2,500 or why they had entered Ukraine.
People from around the world, including U.S. veterans, however, have vowed to join the country's fight against Russia's attack.  Ukraine has also put out the call for foreign fighters to join the effort, with the country establishing the International Legion of Territorial Defense of Ukraine.
Russia, Ukraine establish ceasefire on humanitarian corridors to allow evacuation
Anisha Kukreja
2h ago / 10:09 AM UTC
Russia has said it will temporarily stop military advances to allow evacuations, Ukraine's Deputy Prime Minister Iryna Vereshchuk said in a briefing Wednesday.
Russia has committed to observe the ceasefire from 09:00 to 21:00 local time (2 a.m. to 2 p.m. ET) along several humanitarian corridors, including Enerhodar to Zaporizhia, Sumy to Poltava and Mariupol to Zaporizhia, Vereshchuk said.
Ukraine's National Security and Defense Council said there would be a special operation to allow children and staff members from an orphanage in the village of Vorzel to leave the area..
The International Committee of the Red Cross said Wednesday it had confirmed the humanitarian corridor routes from the Russian side, Vereshchuk said.
Ukraine accused Russian forces of violating a cease-fire agreement on Tuesday by shelling a humanitarian corridor from Zaporizhzhia to Mariupol as buses waited to collect evacuees.
Ukrainian biathlete pulls out of event after father captured by Russian forces
Reuters
3h ago / 9:41 AM UTC
Ukrainian biathlete Anastasiia Laletina was forced to pull out of the middle distance sitting event at the Beijing Winter Paralympics on Tuesday after her father was captured by Russian forces, a spokesperson for the Ukrainian paralympic committee told Reuters.
Laletina's father is a soldier in the Ukrainian army. The spokesperson said they had no further details on his capture.
Russia's invasion of Ukraine last month, which Moscow describes as a "special operation" to disarm the country, prompted the International Paralympic Committee to ban Russian and Belarusian athletes from the Games
U.N. warns of risk of gender-based violence, sexual abuse as more than 2M flee Ukraine
Chantal Da Silva
3h ago / 9:33 AM UTC
The United Nations' humanitarian affairs office has warned of the risk of gender-based violence and sexual exploitation and abuse as hundreds of thousands of people flee Ukraine. 
In a situation report on the humanitarian impact of Russia's invasion in Ukraine, the United Nations Office for the Coordination of Humanitarian Affairs said that with more than two million people forced to flee Ukraine, the situation was "generating evergrowing protection risks." 
It said that the possibility of gender-based violence and sexual exploitation and abuse were among those risks "as the majority of people on the move are women and children." 
UNICEF has said that of the more than two million people who have already fled Ukraine, around half are believed to be children.
"Persistent challenges in accessing basic goods and services and lack of access to safe shelter leave women and girls extremely vulnerable to abuse, exploitation and violence," OCHA said in its situation report.
The U.N. body said that while specialized services, including gender-based violence hotlines, had been reported to remain partially functional, it said access was "extremely limited for both staff and survivors due to the ongoing hostilities and movement restrictions." 
'Relentless shelling' causing major destruction across Ukraine, U.N. agency says
Chantal Da Silva
3h ago / 9:12 AM UTC
As fighting continues across Ukraine "relentless shelling" is causing major damage and destruction across the country, the United Nations Office for the Coordination of Humanitarian Affairs has warned.
In addition to the rising number of deaths, the office said in a report Tuesday night that the "destruction of civilian objects continues to be reported."
"According to the Government of Ukraine, relentless shelling across the country has damaged or destroyed more than 210 schools, at least 34 hospitals and more than 1,500 residential buildings, figures that continue to climb with each passing day," its report said. 
The report said Martin Griffiths, Under-Secretary-General for Humanitarian Affairs and Emergency Relief Coordinator, has called on on all parties of the conflict to "allow the safe passage of civilians out of hardest-hit areas and safe delivery of humanitarian supplies into those areas"
Family and friends lay flowers on Ukrainian soldier's grave
Oksana Parafeniuk
4h ago / 8:37 AM UTC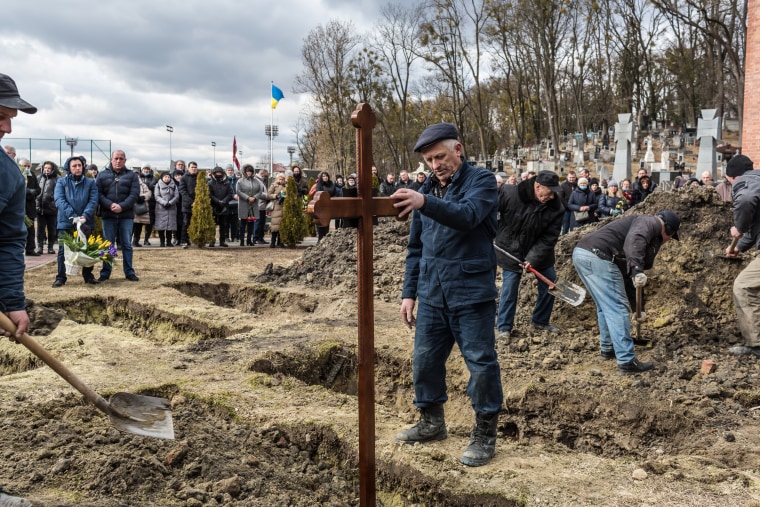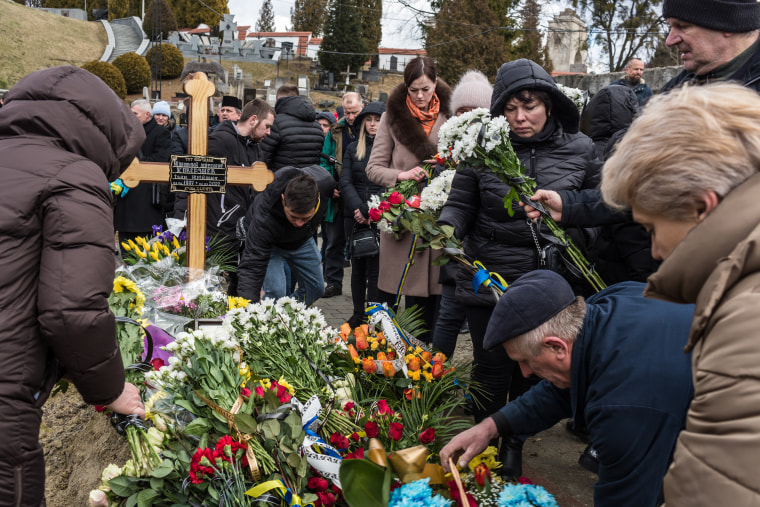 IMF considers $1.4 billion in emergency aid to Ukraine
Mithil Aggarwal
4h ago / 8:21 AM UTC
The International Monetary Fund will consider approving $1.4 billion in emergency aid to Ukraine on Wednesday.
"We have sent to our executive board a proposal they will consider for approval tomorrow for $1.4 billion in support for Ukraine, to help it cope with the shock caused by this war," Managing Director Kristalina Georgieva said Tuesday.
This aid is in addition to a separate $700 million payment agreed in December. Georgieva said the IMF had also provided a $2.7 billion Special Drawing Rights allocation — a supplement to its official reserves — that has come in "very handy" to Ukraine.
IMF said it was increasing contact with Ukraine and said talks were ongoing despite the "sirens that can be heard even as discussions go on".
Russian forces fail to advance in Kyiv, British defense ministry says
Mithil Aggarwal
5h ago / 7:38 AM UTC
Russian forces continued to shell major Ukrainian cities but have yet to make significant breakthroughs in the capital of Kyiv, according to the British defense ministry.
"Fighting north-west of Kyiv remains ongoing," the ministry said in an intelligence update published Wednesday. 
The Ukrainian air defense system has also held up against Russia's aerial forces, preventing them from achieving "any degree of control of the air," the ministry said. 
However, the cities of Kharkiv, Chernihiv, Sumy and Mariupol remain encircled and are suffering heavy Russian shelling, it said.
Air alert declared in Kyiv
The Associated Press
5h ago / 7:34 AM UTC
An air alert was declared Wednesday morning in and around Kyiv, with residents urged to get to bomb shelters as quickly as possible.
"Kyiv region – air alert. Threat of a missile attack. Everyone immediately to shelters," regional administration head Oleksiy Kuleba said on Telegram.
Nearly two weeks into the invasion, Russian troops have advanced deep along Ukraine's coastline. The city of Mariupol, which sits on the Azov Sea, has been surrounded by Russian soldiers for days and a humanitarian crisis is unfolding in the encircled city of 430,000
For days, as Moscow's forces have laid siege to Ukrainian cities, attempts to create corridors to safely evacuate civilians have stumbled amid continuing fighting.
Across the country, thousands of people are thought to have been killed, both civilians and soldiers, in nearly two weeks of fighting. Russian forces have seen their advances stopped in certain areas — including around Kyiv, the capital, — by fiercer resistance than expected from the Ukrainians.