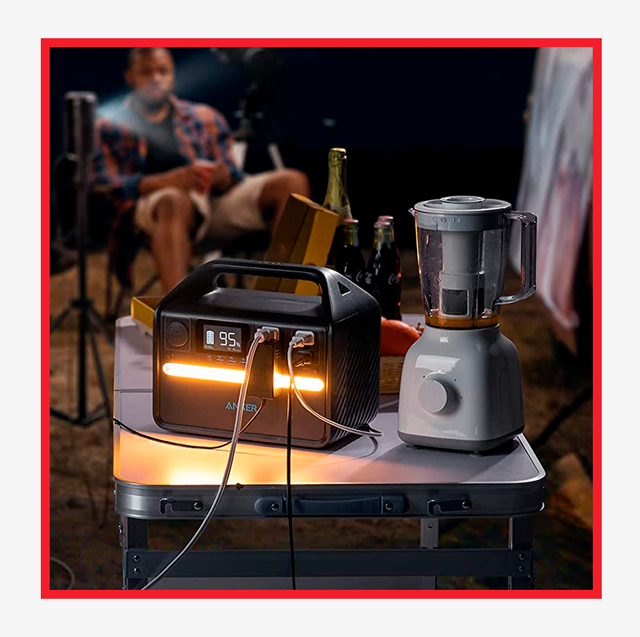 Courtesy of retailer
Generators used to be loud, smelly, and gas-powered, and unless you were eking out a survivalist lifestyle in a cabin in the woods, you probably didn't have much need for one. However, in these days of renewable energy, we're rethinking the idea of generators. Solar generators (aka portable power stations or portable power banks) seem to be everywhere now. It's no surprise: They're smaller, quieter, and more environmentally friendly than their predecessors. They're also clean enough to run indoors and, with enough sunlight, can be recharged indefinitely. Plus, in our tech-hungry world, almost everyone has a use for them. For campers, in particular, packing a portable power station is as important as packing a tent, a hiking backpack and a proper s'mores kit.
Read More: Best Camping Essentials
If you're reading this, you might already be shopping for solar generators. So, by now, you know comparing the options might seem impossible without a Ph.D. in electrical engineering. The long list of techno-jargon—things like "MPPT charge controllers," "lithium iron phosphate cores," and "monocrystalline cells"—doesn't help, either. So, we dove into the best options out there to find the best of the best solar generators for camping in 2022. (Pro tip: Despite the name, solar generators don't actually generate electricity; they only store it. To recharge yours in the field, you'll also need a portable solar panel.)

Best Solar Generators:

Read More: Best Outdoor Gear
Best Value Solar Generator
300W Portable Power Station
Capacity: 280Wh lithium-ion battery
Dimensions: 10.5 x 5.3 x 8.5 inches
Weight: 43 pounds
If the 500-watt capacity found in most mid-range solar generators is too much for your needs, Rockpals' 300W Portable Power Station is a solid alternative. It's enough power for basic backup emergencies, extra juice for your smartphone, and keeping a few gadgets humming along on a weekend wilderness getaway. Plus, at just over $200, it's easily the best value solar generator for the money.

1000W/1280Wh Portable Power Station
Capacity: 1,280Wh LiFePO4 battery
Dimensions: 11.42 x 10.16 x 8.27 inches
Weight: 30.8 pounds
Judy Power's 1000W Power Station offers a generous 1,280Wh capacity—enough for car campers who regularly venture out with plenty of tech in tow. It'll keep most laptops going for at least 12 hours or a heated blanket nice and toasty overnight. The LiFePO4 battery technology is a step up from traditional lithium-ion batteries, promising a longer shelf life and better safety. Plus, the bright, in-your-face safety orange shell looks cool to boot.

Best Overall Solar Generator
Portable Power Station Explorer 500 Solar Generator
Capacity: 518Wh lithium-ion battery
Dimensions: 11.84 x 7.59 x 9.20 inches
Weight: 13.32 pounds
If you're looking to buy your first solar generator but can't decide which one, start with Jackery's Portable Power Station Explorer 500. It's the perfect balance of capacity, peak output, and port selection. At 13 pounds and roughly the size of a basketball, it's ideal for everything from car camping to picnics to days at the beach. It's also well-priced at around $500.

Best Solar Generator for Overlanding
Yeti 1500X Portable Power Station
Capacity: 1,500Wh lithium-ion battery
Dimensions: 19 x 14 x 14 inches
Weight: 46 pounds
For most, overlanding means going off-grid for extended periods with a carload of tech and camping essentials. All that gadgetry requires serious power, and Goal Zero's Yeti 1500X is the perfect accompaniment. It's a beast at more than 45 pounds. But that heft comes courtesy of a massive 1,500Wh lithium battery with enough juice to keep most overlanders going off-grid for up to a week. Add 100-200 watts of solar panel power, and it's possible to extend your adventure indefinitely.

Delta Mini Portable Power Station
Capacity: 882Wh lithium-ion battery
Dimensions: 14.9 x 7.2 x 9.4 inches
Weight: 23.6 pounds
EcoFlow's DELTA mini delivers a steady 1,400W stream capable of powering the vast majority of home and portable electronics. With a 1,800-watt peak capacity, it's even beefy enough to handle power-hungry things like table saws, toasters, and hair dryers. X-Stream technology allows it to charge from zero to full in just 1.6 hours. That's up to four times faster than other similarly equipped power stations.

HomePower ONE: Backup Battery Power Station
Capacity: 1,002Wh lithium-ion battery
Dimensions: 13 x 9.15 x 9.57 inches
Weight: 23.37 pounds
With just over a 1,000-watt capacity, Generark's HomePower ONE is perfect for both car camping and short-term home power backup. It's well-outfitted with various power ports, including USB-C with PD 18W for fast-charging compatible smartphones and laptops, and the three AC outlets deliver pure-sine wave power making it safer for sensitive electronics. Plus, it's lighter than most comparable, 1,000-watt solar generators.

500W Portable Power Station
Capacity: 518Wh LiFePO4 battery
Dimensions: 10.8 x 9.1 x 8.3 inches
Weight: 18.74 pounds
Itehil doesn't have the brand-name cache of Goal Zero or Jackery. However, its 500W Portable Power Station is comparable in almost every way. The 518Wh capacity is plenty for car campers with everything from smartphones and tablets to drones and portable fridges. What sets it apart is the LiFePO4 battery, which is designed to last much longer than traditional lithium-ion batteries. The integrated LED sidelight is also helpful in emergencies or for navigating your campsite when your smartphone or flashlight isn't handy.

Best for RV Campers
AC200MAX Portable Power Station
Capacity: 2,048Wh LiFePO4 battery
Dimensions: 16.5 x 11 x 15.2 inches
Weight: 62 pounds
Bluetti's AC200MAX is one of the largest portable power stations on the market and indeed the largest on this list. The 62-lb heft comes largely thanks to a beefy 2,048-Wh LiFePO4 battery. Coupled with a 2,200-watt inverter and 16 power ports, it'll run just about any 110-volt household electronic. What truly sets it apart is the integrated 30A DC port for directly powering a travel trailer or small RV.

535 Portable Power Station
Capacity: 512Wh LiFePO4 battery
Dimensions: 11.5 x 9.9 x 7.4 inches
Weight: 16.75 pounds
The new Anker 535 is a solid mid-sized option with more than 500Wh of juice. This, too, hits the sweet spot between portability and capacity. It's built to go the distance with a lithium iron phosphate battery and drop-proof construction. We especially love the bright, easy-to-read smart display that relays all the station's pertinent info at a glance.
Best for Portable 12V Appliances
PLB40 Portable Lithium Battery
Capacity: 512Wh lithium-ion battery
Dimensions: 7.76 x 7.76 x 10.02 inches
Weight: 16.1 pounds
If a powered cooler or portable fridge is about the only electronic you pack for camping, Dometic's simple PLB40 is the perfect solution. At 16 pounds, it's the smallest and most portable solar generator on this list. Still, the triple 12V outlets deliver up to 40Ah of juice via a built-in lithium iron phosphate battery—more than enough to keep your beer and grill meat chilled over a long weekend.

This content is created and maintained by a third party, and imported onto this page to help users provide their email addresses. You may be able to find more information about this and similar content at piano.io