1 min ago
Russian troops "fully withdrawn" from northern Ukraine: UK Ministry of Defense
From CNN's Lauren Lau in Hong Kong 
Russian troops have "fully withdrawn" from northern Ukraine to Belarus and Russia, the UK's Ministry of Defense said in its latest military intelligence assessment.
A number of the Russian troops will be transferred to eastern Ukraine to fight in the Donbas region, the MoD said on Twitter.
"Many of the forces will require significant replenishment before being ready to deploy further east, with any mass redeployment from the north likely to take at least a week minimum," the ministry said.
Russian shelling of cities in the east and south of Ukraine persists, the MoD said, and Russian forces have moved further south from the city of Izium, which remains under Russian control, it said.
1 hr 38 min ago
Analysis: Emmanuel Macron has a grand vision for the West. Putin has exposed the limits of his influence
Analysis from CNN's Luke McGee
Ever since the Ukraine crisis began, French President Emmanuel Macron has assumed the role of Europe's statesman, willing to talk face-to-face and on the phone multiple times with Russian President Vladimir Putin in a way that other world leaders would be either unwilling or, Macron's supporters believe, unable to do. 
Critics might argue that Macron's indulgence legitimizes a man that Biden has described as a war criminal.
But his allies say that, at the very least, keeping the line open to Moscow eliminates any claim Putin could make that he'd been isolated and had no diplomatic alternative other than invasion. 
Macron is a man who sees himself and France as a force for good on the world stage. And though his interventions often don't live up to expectations the statesman persona plays well with French domestic audiences. All of which helps Macron as he fights for reelection this month. 
But the war has cast a shadow over the French presidential election campaign, the first round of which takes place on April 10. 
Read the full analysis: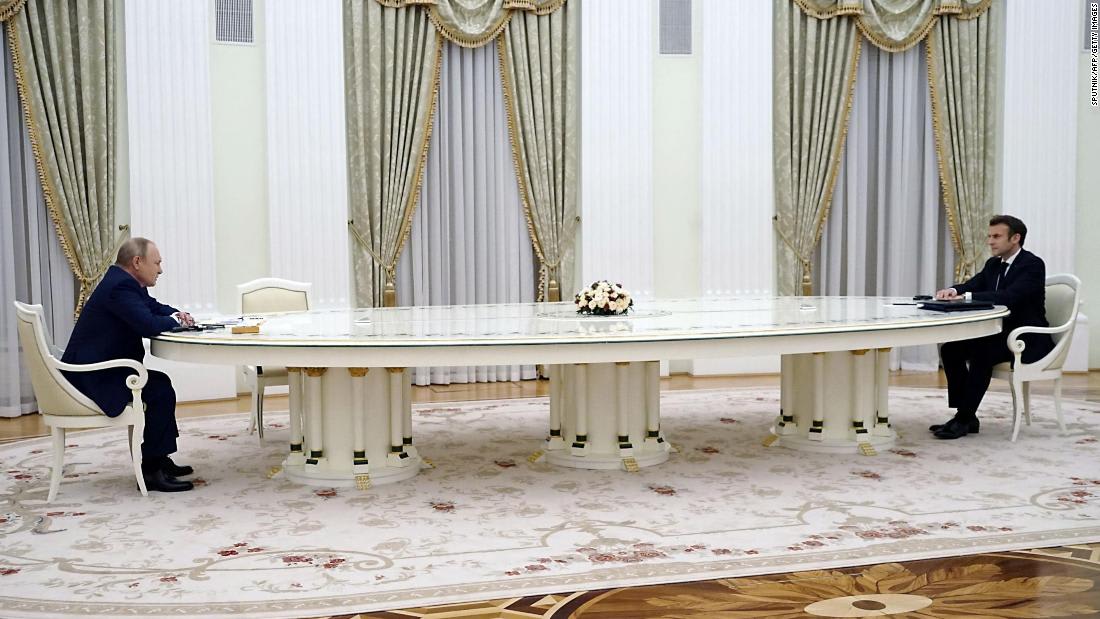 2 hr 4 min ago
Why Russia might struggle to maintain its digital iron curtain
From CNN Business' Rishi Iyengar
On March 14, the same day Russia banned Instagram, Russian tech entrepreneur Alexander Zobov announced he would soon launch a local version of the popular photo and video sharing app called Rossgram.
Two weeks later, Rossgram shared an update on its Telegram channel telling prospective users that the app was undergoing "internal testing." The launch is still pending.
Rossgram's apparent launch delays highlights the broader hurdles Russia's technology sector has to overcome in order to build a self-contained internet that isn't dependent on western platforms.
The Russian government has been trying to make this break for years but that effort has been further accelerated by Russia's war with Ukraine and the resulting exodus of, and crackdown on, US big tech companies.
Russia does have established homegrown tech companies such as VK, the biggest Russian social network, and Yandex, whose services include a popular search engine and a ride-hailing platform. But those companies are smaller and also under pressure from global sanctions on Russia over the Ukraine invasion, given their dependence on western firms for key infrastructure.
Read the full story:
2 hr 18 min ago
It's 7 a.m. in Kyiv. Here's what you need to know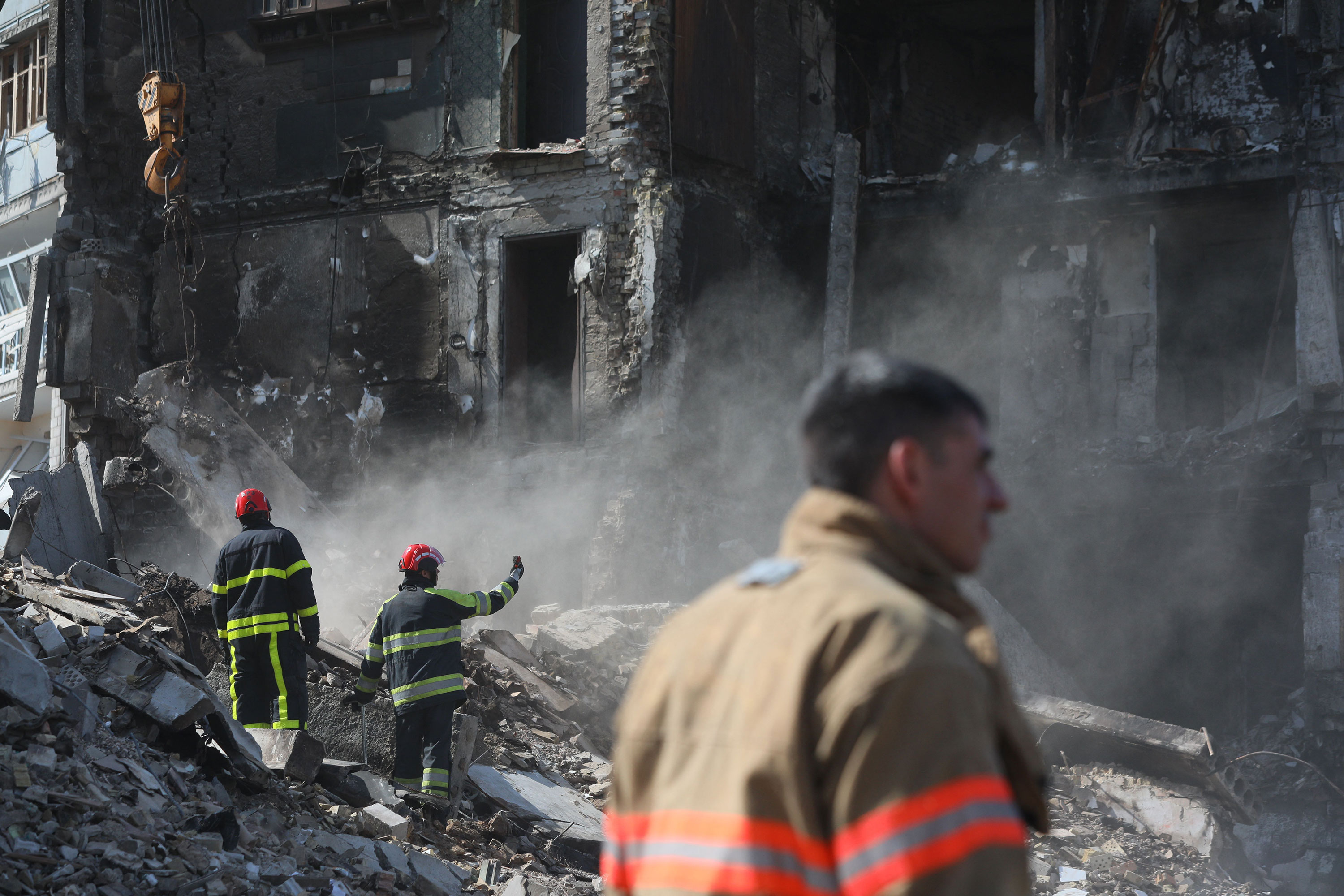 Ukraine's President warned the situation in Borodianka, near the capital, will be worse that what was seen in Bucha, following the retreat of Russian forces. Meanwhile, the US said it has committed tens of thousands of weapons to Ukraine, including "hundreds" of suicide drones.
Here's the latest:
Here's a look at the situation on the ground as Russia attacks eastern Ukraine:
3 hr 31 min ago
US has committed more than 12,000 anti-armor systems and "hundreds" of suicide drones to Ukraine
From CNN's Oren Liebermann
The US has committed more than 12,000 anti-armor systems, 1,400 anti-aircraft systems and "hundreds" of suicide drones to Ukraine, the Biden administration said in a statement Thursday evening.
The update comes after the US approved on Tuesday another $100 million in weaponry for Ukraine drawn from US inventories, bringing the total US assistance to Ukraine to approximately $1.7 billion since the beginning of Russia's invasion.
That includes $300 million approved last Friday under the Ukraine Security Assistance Initiative, in which new weapons will be purchased from defense contractors to send to Ukraine.
The list of weapons committed to Ukraine includes the following:
More than 1,400 Stinger anti-aircraft systems
More than 5,000 Javelin anti-armor systems
More than 7,000 other anti-armor systems
Hundreds of Switchblade Tactical Unmanned Aerial Systems;
Over 50,000,000 rounds of ammunition
45,000 sets of body armor and helmets
Laser-guided rocket systems
Puma Unmanned Aerial Systems
Night vision devices, thermal imagery systems, and optics
Commercial satellite imagery services
This does not mean all of the weapons have already arrived in Ukraine; instead, they are an update on what the US has sent in the past and has pledged to send in the future.
For example, on Wednesday, Pentagon press secretary John Kirby said the US has sent in about 100 of the Switchblade suicide drones and is working on sending in more. 
4 hr 53 min ago
UN suspends Russia from Human Rights Council
From CNN's Richard Roth, Kate Sullivan, Samantha Beech and Laura Ly
The United Nations General Assembly voted Thursday to suspend Russia from the UN Human Rights Council after high-profile allegations of atrocities committed by Russian soldiers during the war in Ukraine.
The voting result was 93 in favor, 24 against and 58 abstentions.
A draft of the resolution says the General Assembly may "suspend the rights of membership in the Human Rights Council of a member of the Council that commits gross and systematic violations of human rights."
The draft resolution adds that the council has "grave concern" regarding reports of "gross and systematic violations and abuses of human rights" and "violations of international humanitarian law" committed by the Russian Federation during its invasion of Ukraine.
The General Assembly needed to vote in favor by two-thirds of the countries present and voting to remove Russia from the UN Human Rights Council. The measure suspends Russia's membership in the Council and would launch a review of the matter if the UN deems it appropriate.
4 hr 14 min ago
Kremlin spokesperson admits to "significant" Russian troop losses in Ukraine
From CNN's Martin Goillandeau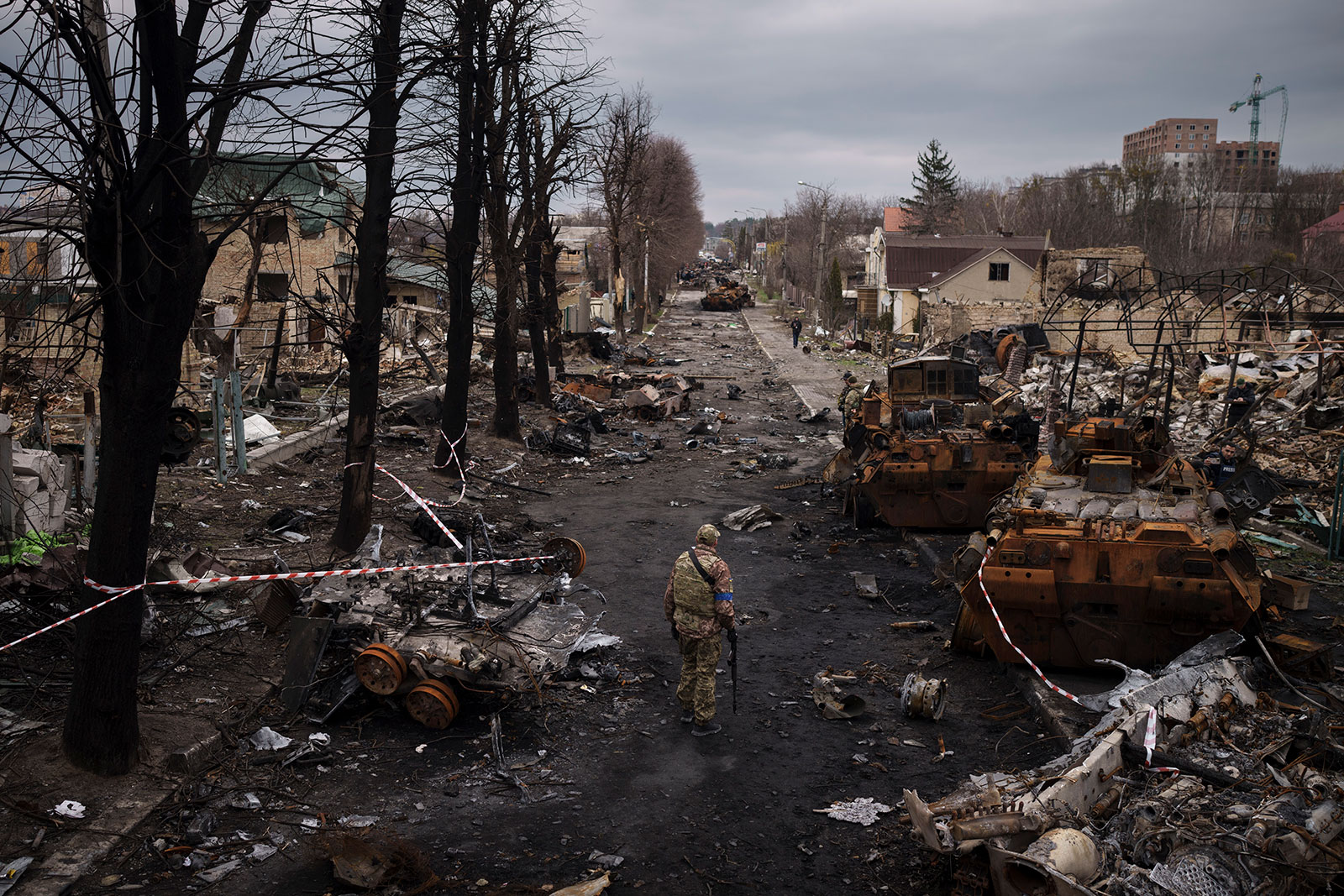 Kremlin spokesperson Dmitry Peskov briefly admitted Thursday that Russia had suffered "significant" losses of its troops in Ukraine, calling it "a huge tragedy" for the country in an interview with Sky News.
Asked whether the withdrawal of Russian troops from Kyiv and its region could be seen as "a humiliation" for the Kremlin, Peskov said using those words would be "a wrong understanding of the situation."
"We have significant losses of troops and it's a huge tragedy for us," Peskov admitted, before claiming the reason for Russia's withdrawal from the Kyiv and Chernihiv regions was "an act of goodwill during the negotiations between the Ukrainian and Russian delegations." 
Peskov added that Russia did so to "lift tension from those regions in order to show Russia is really ready to create comfortable conditions for the continuation of the negotiations."
Some context: CNN has been unable to verify how many Russian troops have been killed in Ukraine. Last month, pro-Putin Russian tabloid Komsomolskaya Pravda reported the toll was 9,861 — multiple times higher than official figures from the Kremlin. The figure, which was attributed to the ministry and later retracted by the paper — which claimed it was hacked — was not confirmed by the Kremlin.
US and NATO officials estimated last month that Russian casualties range from between 3,000 and 10,000. Ukrainian officials have claimed the toll is even higher.
5 hr 44 min ago
Video appears to show execution of Russian prisoner by Ukrainian forces
From CNN's Nathan Hodge, Eoin McSweeney and Niamh Kennedy
CNN has geolocated a recent video that appears to show the execution of a Russian prisoner by Ukrainian forces following recent fighting in the Kyiv region.
The video — first verified by the New York Times — shows a group of soldiers with Ukrainian patches and blue arm bands on a road following a firefight. The bodies of at least four men in Russian uniform are lying on the pavement. Three of them have head wounds and blood is pooled around the body of a fourth, who has a jacket pulled over his head and seems to be rasping.
"He's still alive," says one man, in Russian. "He's gasping."
A soldier points a rifle and fires two shots at the body, pauses, then fires another. The body stops moving.
A person narrating to the camera then turns to film a Russian infantry fighting vehicle with a "V" marking similar to that seen on Russian military hardware operated by many units in Ukraine. "A little trophy," the man says.
Someone off camera says, "Slava Ukrayini!" — glory to Ukraine, a patriotic greeting, and a bearded man steps in the frame and replies, "Glory the heroes," the standard reply.
The exact time and date of the video, which appeared on a pro-Russian Telegram channel, is unclear. The location of the video matches that of a video published on Twitter by Ukraine's Ministry of Defense. That video, posted on April 2, shows a blasted Russian armored column. "Handiwork of Ukrainian defenders in the Kyiv region," the caption reads.
Read more: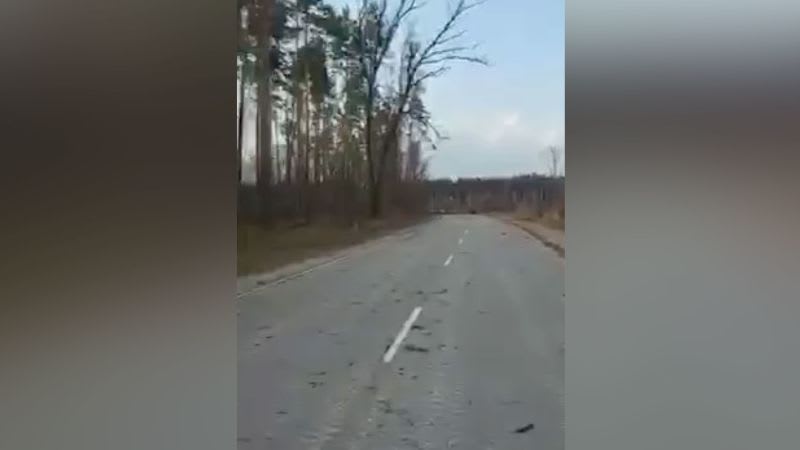 5 hr 58 min ago
Russian troops discussed killing civilians in intercepted radio transmissions, source says
From CNN's Luke McGee, Nathan Hodge, Lauren Kent, Claudia Otto and Nadine Schmidt
Germany's foreign intelligence service told a parliamentary committee Wednesday that it has intercepted radio communications where Russian soldiers talked about shooting soldiers and civilians in Ukraine, a source with knowledge of the meeting said.
The briefing was the top item at the Wednesday meeting, the source added.
Those intelligence findings — first reported by Der Spiegel — appear to implicate Russian troops in a pattern of apparent war crimes despite denials from Moscow, most recently in the indiscriminate killing of civilians in the Kyiv suburb of Bucha.
Der Spiegel reported that the BND, Germany's foreign intelligence agency, intercepted Russian radio chatter about the killing of civilians in Bucha, and that some of the conversations could be tied directly to specific killings in Bucha that have been documented since news first emerged of an apparent massacre there.
German intelligence has satellite images that point to the involvement of Russian troops in the Bucha killings, the Washington Post reported, citing an unnamed intelligence official, though the paper said the radio transmissions have not been linked to that location.
News of the German intelligence assessment comes amid massive international outrage over Bucha and a growing body of evidence that points to the Russian military's involvement in the indiscriminate killing of civilians in Ukraine.
Read more: