1 min ago
Zelensky writes to family of killed American journalist Brent Renaud
From CNN's Samantha Beech.
Ukrainian President Volodymyr Zelensky has shared a letter he wrote to the family of American journalist Brent Renaud, who was killed in Ukraine. 
"It is with deep sadness that I am writing to extend my heartfelt condolences to you on the tragic loss of your beloved son and brother, Brent Renaud." Zelensky said in a copy of a letter addressed to Renaud's family posted on Twitter.
"With all his courage and determination, he traveled to the most dangerous war zones to film the unprecedented ruthlessness and evil, also inflicted upon our nation by the aggressor state." 
Award-winning reporter Renaud was killed by Russian forces in the Ukrainian city of Irpin, police in Kyiv said in social media posts Sunday.
CNN has not independently verified the account given by police.
Another American journalist, Juan Arredondo, was wounded. Time magazine told CNN that Renaud was in Ukraine in recent weeks to work on "a Time Studios project focused on the global refugee crisis."
On Monday, Russia's Ambassador to the United Nations said at the UN Security Council, without providing evidence, that Renaud died at the hands of Ukrainian forces in Irpin — not Russian forces.
7 min ago
Video shows Ukrainian artillery strike on Russian military position in forest outside Kyiv
From CNN's Paul P. Murphy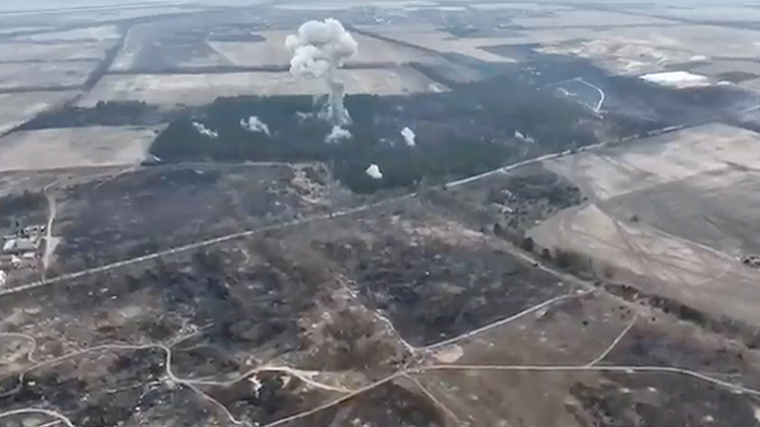 The Ukrainian military has conducted an artillery strike on a Russian military position in the outskirts of Kyiv, new video published Monday shows. 
The video was taken by a drone and shows the Russian military position in a forest.
The Ukrainian military did not say where the video was filmed but CNN has geolocated the clip to a grove of trees just east of the village of Ozera, northwest of Kyiv.
It's unclear when the barrage occurred but NASA satellite sensory data from the Fire Information for Resource Management System indicates that several explosions took place around the area on March 11.
As the camera zooms out, the artillery barrage is seen hitting the grove of trees. The village of Ozera and the northern end of the runway at Antonov Air Base is visible.
The villages of Ozera and Moschun — 2 miles (3 kilometers) east across the Irpin River — have been significantly damaged by military strikes.
48 min ago
Zelensky says the world sees that Russian military has "responsibility for war crimes"
From CNN's Hande Atay Alam and Samantha Beech
Ukraine's President Volodymyr Zelensky said the world sees what Russia is doing in Ukrainian cities and its military has "responsibility for war crimes."
"Responsibility for war crimes of the Russian military is inevitable," Zelensky said during a video address on Telegram early Tuesday. "Responsibility for a deliberate humanitarian catastrophe in Ukrainian cities is inevitable."
Russia, he said, will have to answer for disrupting evacuation corridors and for its actions in "Mariupol. Kharkiv. Chernihiv. Sumy. Okhtyrka. Hostomel. Irpin. In all our cities."
Evacuations: Zelensky said 3,806 Ukrainians were evacuated from Kyiv and Luhansk regions on Monday.
Aid convoy: But a humanitarian convoy bringing desperately-needed aid to the besieged city of Mariupol was blocked.
"Our convoy with 100 tons of what is most necessary for Mariupol is still kept in Berdyansk. For three days already. But we will try. We will do everything to ensure that Mariupol residents receive food, water, and medicine," he said.
New sanctions: Zelensky said Ukraine is working with "partners" on new restrictions that will be applied against the Russian state.
"Everyone who is responsible for the war. Everyone who is responsible for the destruction of democracy. Everyone who is responsible for repression against people. Everyone will get an answer. The answer of the world. And this is just the beginning," he said.
"Every aggressive action of the invaders only pushes the world to new sanctions."
Talks: The President said negotiations are continuing with Russia after a fourth round of talks concluded Monday.
"Our delegation also worked on this in negotiations with the Russian party. Pretty good, as I was told. But let's see. They will continue tomorrow," he said.
On Monday, Ukrainian negotiator Mykhailo Podoliak said on Twitter there was a "technical pause" in talks but they would continue Tuesday.
The pause was "for additional work in the working subgroups and clarification of individual definitions. Negotiations continue," he said.
1 hr 8 min ago
Underneath embattled Kyiv, babies born to foreign parents via surrogate shelter in a basement
From CNN's Rebecca Wright and Olha Konovalova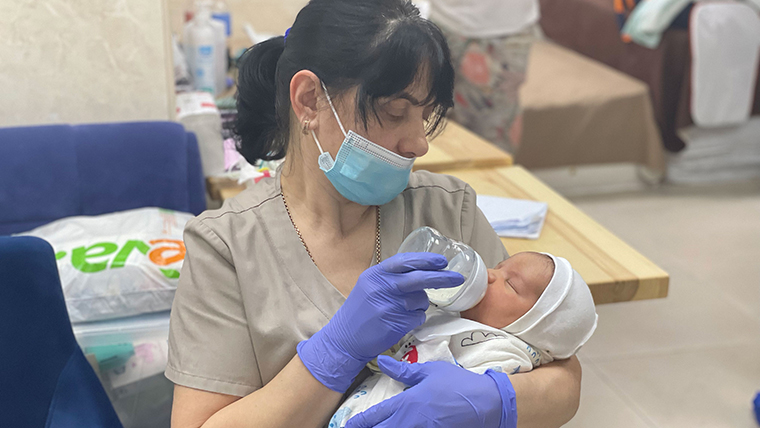 The thunder of explosions occasionally rattles the basement that has become the temporary home to 21 babies of foreign parents born to Ukrainian surrogates.
The BioTexCom Center for Human Reproduction surrogacy center in Kyiv was moved to the concrete bunker on the first day of the Russian invasion nearly three weeks ago, to protect the babies from any incoming fire.
But located just over 9 miles (14 kilometers) from Irpin, a suburb that has been a target of a Russian onslaught, it is still far from safe — making it difficult for the new parents, who are in countries such as Canada, Italy and China, to collect the babies.
On Monday morning, a 30-year-old surrogate arrived at the makeshift clinic with the baby boy she delivered in hospital a week earlier. She was unable to hold back her tears as she handed baby Laurence over to the staff.
"It is even harder that he is in a place where there is shelling," said the surrogate, who only wanted to use her first name, Victoria. "And when will his parents get to take him away because of it? It's really hard."
Baby Laurence's biological parents, who provided both the sperm and the egg for the pregnancy, live abroad. But it's unclear when they will be able to collect their son.
Read the full story: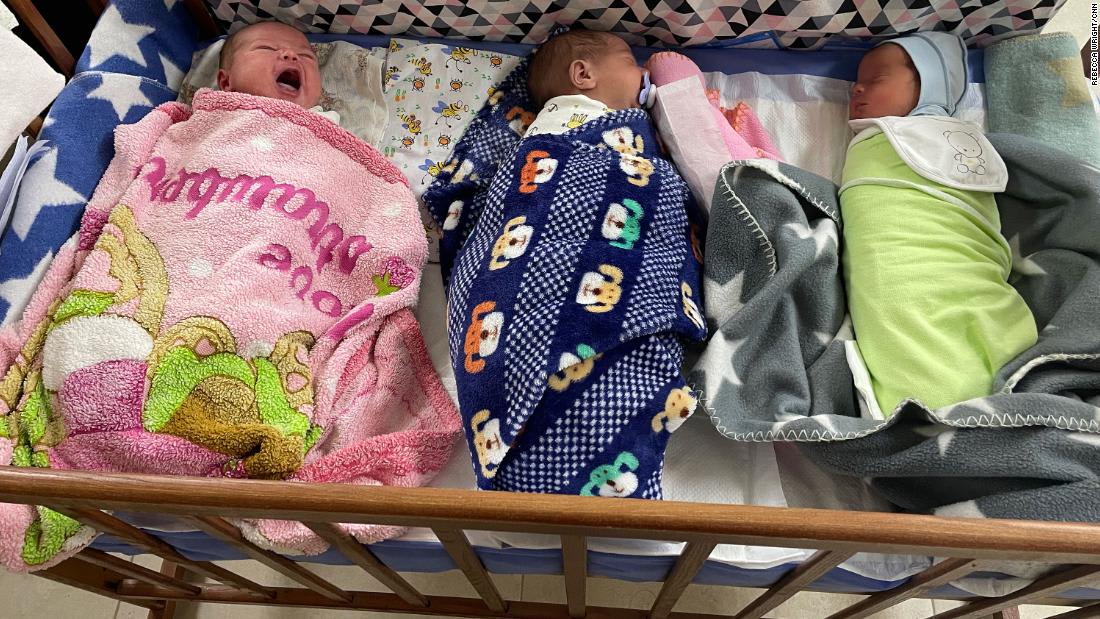 1 hr 19 min ago
Zelensky asks Russian soldiers: "Why should you die?"
From CNN's Hande Atay Alam and Samantha Beech
Ukrainian President Volodymyr Zelensky spoke directly to Russian soldiers in a video message uploaded to Telegram early Tuesday morning local time. 
"Russian conscripts! Listen to me very carefully. Russian officers! You've already understood everything. You will not take anything from Ukraine. You will take lives. There are a lot of you. But your life will also be taken," the President said.
"But why should you die? What for? I know that you want to survive." 
Zelensky said Ukraine is hearing Russian soldier's conversations in intercepts.
"We hear what you really think about this senseless war, about this disgrace, and about your state. Your conversations with each other. Your calls home to your family. We hear it all. We draw conclusions. We know who you are," he said.
The Ukrainian President also offered Russian soldiers what he said was, "a choice" and "a chance."
"On behalf of the Ukrainian people, I give you a chance. Chance to survive. If you surrender to our forces, we will treat you the way people are supposed to be treated. As people, decently. In a way, you were not treated in your army. And in a way, your army does not treat ours. Choose!" Zelensky said.
Without offering evidence, Zelensky claimed Russia had lost 80 warplanes and "soon the number of downed helicopters of Russia will reach hundreds of units." 
Zelensky said abandoned Russian equipment was "one of the suppliers of equipment to our army."
1 hr 25 min ago
NATO leaders could meet next week in an extraordinary session
From CNN's Kaitlan Collins
The leaders of NATO could meet in person in Brussels as soon as next week for what would be an extraordinary meeting amid Russia's invasion of Ukraine, according to a diplomatic source familiar with the planning. 
Multiple US officials have confirmed that US President Joe Biden is preparing to possibly travel to Europe next week, though his trip has not been finalized, nor has the NATO leaders summit.
But the session is currently under discussion as NATO attempts to curb Russian President Vladimir Putin's brutal invasion of Ukraine. 
1 hr 40 min ago
Ukraine's Zelensky says he's grateful to those Russians "not afraid to protest"
From CNN's Samantha Beech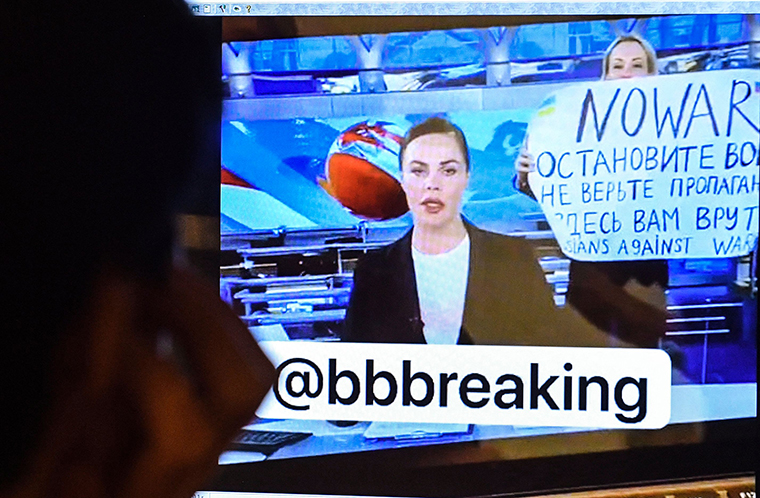 Ukrainian President Volodymyr Zelensky said he's "grateful" to Russians who "are not afraid to protest" and who "tell the truth" about Russia's invasion of Ukraine. 
"I am grateful to those Russians who do not stop trying to convey the truth. To those who fight disinformation and tell the truth, real facts to their friends and loved ones," he said in a Telegram video uploaded early Tuesday local time.
Zelensky also spoke directly about Maria Ovsyannikova, the Russia Channel One employee who held an anti-war sign, to interrupt one of Russia's major state television broadcast news programs in prime time on Monday.
"NO WAR. Stop the war. Do not believe propaganda they tell you lies here," the sign read. "Russians against war," the last line of the sign said in English.
Zelensky thanked Ovsyannikova following her protest.
"And personally to the woman who entered the studio of Channel One with a poster against the war," he said.
"To those who are not afraid to protest. As long as your country has not completely closed itself off from the whole world, turning into a very large North Korea, you must fight. You must not lose your chance." 
Ovsyannikova's lawyer, Dmitry Zakhvatov, told CNN earlier that he is unable to find his client, despite reports she is in Moscow's Ostankino Police station.
2 hr 17 min ago
In Putin's vision for the world, a medieval narrative resurfaces of the Russian world vs. western culture
From CNN's Delia Gallagher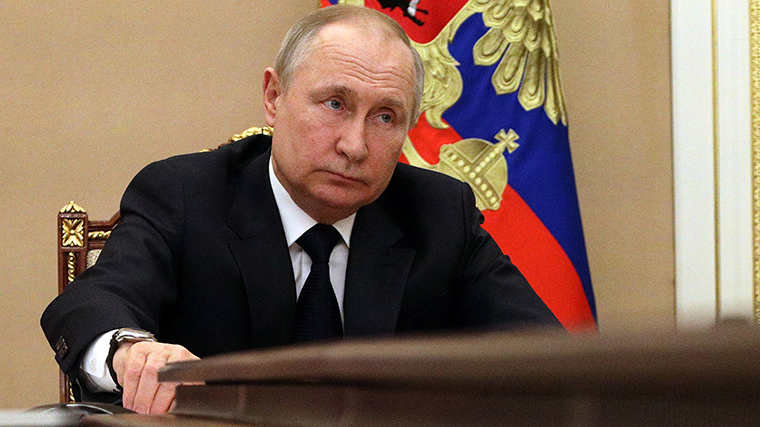 Russian President Vladimir Putin has given several explanations for his country's war on Ukraine, and some are more plausible than others. They include stopping NATO's advance towards Russia's borders, protecting fellow Russians from "genocide" or the baseless claim of "de-Nazifying" Ukraine.
The top-ranking priest in the Russian Orthodox Church, meanwhile, has offered a very different reason for the invasion: gay pride parades.
Patriarch Kirill said last week that the conflict is an extension of a fundamental culture clash between the wider Russian world and Western liberal values, exemplified by expressions of gay pride.
Yet experts say that Kirill's comments offer important insights into Putin's larger spiritual vision of a return to a Russian Empire, in which the Orthodox religion plays a pivotal role.
The hardline stance of the Russian patriarch is also costing him followers, however. The Russian Orthodox church in Amsterdam announced on Sunday it was severing ties with the leader, just the latest in number of priests and churches who are abandoning Moscow over the war in Ukraine.
"Putin has been putting forward this concept of the so-called Russian World and that concept is grounded in Russian Orthodoxy," Victoria Smolkin, associate professor of history at Wesleyan University, told CNN.
"The Russian World is wherever there are Russian speakers, the Russian World is wherever there is a Russian church — it does not acknowledge existing political borders," Smolkin said.
Putin's vision is supported by Kirill, who also sees Ukraine as an integral, historical part of his Russian church, Georg Michels, professor of history at University of California Riverside, told CNN.
"At the beginning of the war, Patriarch Kirill gave a sermon in which he emphasized the God-given unity of Ukraine and Russia," said Michels in a UC Riverside News interview.
"Kirill denounced the 'evil forces' in Ukraine that are out to destroy this unity," Michels explained.
Last Sunday, Kirill went a step further during a sermon in Moscow when he specifically linked these "evil forces" to gay pride events.
According to the patriarch, the war in Ukraine is about "a fundamental rejection of the so-called values that are offered today by those who claim world power" — that is, the West.
The "test" of which side you are on, said Kirill, is whether your country is willing to hold gay pride parades.
"In order to enter the club of those countries, it is necessary to hold a gay pride parade. Not to make a political statement, 'we are with you,' not to sign any agreements, but to hold a gay parade," he said during the March 6 sermon.
"If we see violations of [God's] law, we will never put up with those who destroy this law, blurring the line between holiness and sin, and even more so with those who promote sin as an example or as one of the models of human behavior," Kirill said. "Around this topic today there is a real war," he added.
Kirill's speech denounced the infiltration of Western liberal values into the hearts and minds of what he said were the historically unified and Orthodox Ukrainian and Russian people.
"He's saying there is a civilizational clash and that the gay pride parades in this narrative is a litmus test for which side you're on," Smolkin said.
Despite calls for Kirill to denounce Putin's war, the "Russian Pope" has not only refused to do so, but instead has provided moral legitimacy for the invasion by calling it a struggle of "metaphysical significance," of humanity choosing to follow God's laws.
"The Russian Orthodox Church is providing much of the symbolism and ideology that Putin has used to cement his popularity," added Michels.
1 hr 30 min ago
New satellite images show additional damage in Mariupol and outside of Kyiv
From CNN's Paul P. Murphy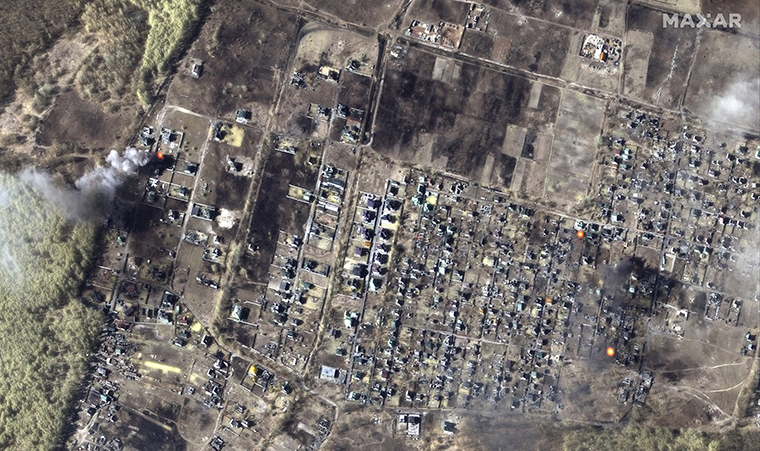 New satellite images from Maxar Technologies are helping to shed light on the areas impacted by military strikes across Ukraine.
Just 24 miles northwest of central Kyiv, the satellite images show that nearly every single house in the northwestern side of the village of Moschun has sustained significant damage.
Fires are still burning in some of the houses while the fields surrounding the village are also scorched.
The photos, taken on Monday, also show damage across Mariupol. The satellite images are offering the only look at the latest destruction in the city.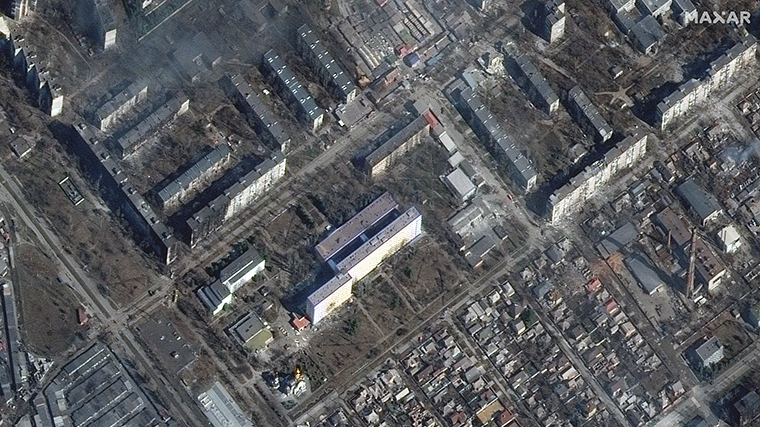 Mariupol's Regional Intensive Care Hospital in the city's Zhovteneyvi neighborhood has a hole in the southern facade of the building while debris is also scattered outside. 
It's unclear which side is responsible for the damage at the hospital. Nearby the hospital building, a number of apartment complexes appear to have been significantly harmed with one seeming to have suffered noticeable fire damage.
Roughly a mile south, in the Primorskyi neighborhood, a number of homes are seen smoldering after an apparent military strike. Nearby apartment complexes have also sustained damage, while additional homes in a residential area in the city's center are also facing concerns.