Republicans took aim at President Joe Biden for not traveling to Ukraine's capital, Kyiv, or at least sending a high-level diplomat to the city amid Russia's invasion of the Eastern European nation after British Prime Minister Boris Johnson made a surprise visit there this weekend.
Johnson met directly with Ukrainian President Volodymyr Zelensky in Kyiv on Saturday, with videos and photos of the two leaders walking through the Ukrainian city circulating widely on social media. Ukrainian politicians have called for the leaders of other Western democracies to make similar visits in a show of support against Russian President Vladimir Putin's internationally condemned aggression.
A number of prominent Republicans quickly drew a comparison between Johnson and Biden, suggesting that the U.S. administration was not showing the same level of support for Ukraine.
"Boris Johnson went to Kyiv this weekend. Joe Biden went on his 32nd weekend vacation to Delaware," Ronna McDaniel, the chair of the Republican National Committee (RNC), tweeted on Sunday.
"At this point nearly every major NATO/EU country has shown strong public support by sending either a head of state, legislative delegation, or senior diplomatic official to Kiev to meet with President Zelenskyy," GOP Representative Peter Meijer wrote in a Saturday Twitter post. "Except US."
"The British Prime Minister goes to Kiev to meet with Zelenskyy while the American President rides his bicycle in Delaware. There is something wrong with this picture. When did the land of the free and the home of the brave become the land of timidity, risk aversion, and dishonesty? [sic]" former Republican House Majority Leader Newt Gingrich tweeted.
The RNC Research Twitter account shared a video clip of Biden's national security adviser Jake Sullivan in a Sunday interview saying there are not any current plans for a Biden trip to Kyiv, in an apparent critique of the administration.
"'It was quite the symbol to see Prime Minister Boris Johnson walking the streets of Kyiv with President Zelenskyy. It raises the question: are we gonna see President Biden in Kyiv?'
NSA JAKE SULLIVAN: 'Biden doesn't currently have any plans to travel to Kyiv,'" the RNC Research tweet said.
Biden traveled to Poland and went near the Ukrainian border in late March. However, he told reporters that he was not allowed to enter Ukraine.
"Quite frankly, part of my disappointment is that I can't see it firsthand, like I have in other places," Biden said during his visit to Poland, Breitbart reported. "They will not let me, understandably; I guess it would cross the border—and take a look at what's going on in Ukraine."
Notably, the situation in Ukraine has changed somewhat since Biden's visit to Poland last month. Russian forces have pulled back their troops from Kyiv as Moscow leaders have said they will focus their efforts further to the east in Ukraine.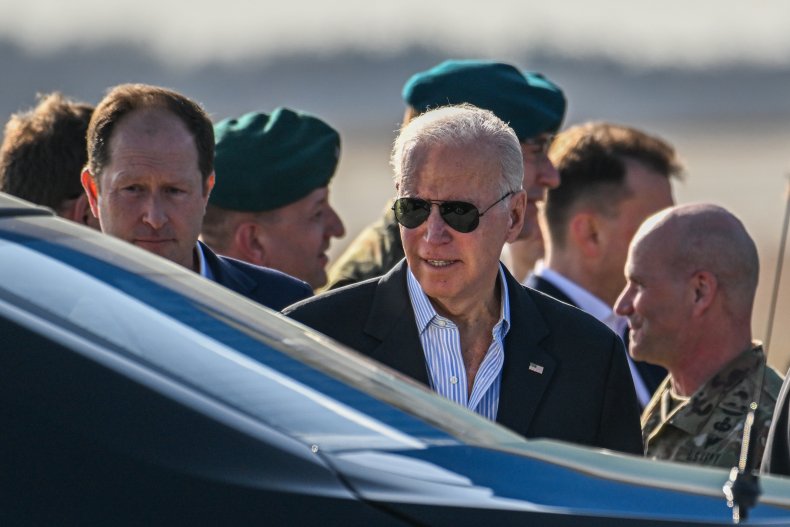 Lesia Vasylenko, who serves in the Ukrainian parliament, told GB News on Sunday that "it would be great to see the President of the United States, Joe Biden, in the same way in Kyiv." She also mentioned French President Emmanuel Macron.
"I mean, all the world leaders, if they come and stand shoulder-to-shoulder with President Zelensky, not afraid of the Russian missiles and of the Russian attacks, they will already be sending a message—not just to Putin, but also to the Russian soldiers and to all the Russian Army and the Russian troops," the lawmaker said.
Kira Rudik, a Ukrainian member of parliament, shared a similar perspective with Fox News on Sunday. Rudik said "of course" she would like to see Biden visit Kyiv. "That would really be a sign of solidarity—that would be a really bold move," she said. The politician also pointed out that Johnson's security teams were "advising him not to" travel to the city, yet he came anyway.
As the RNC Research Twitter account highlighted, the White House said Sunday that there is not a plan in the works for Biden to visit Kyiv.
"President Biden doesn't currently have any plans to travel to Kyiv," Sullivan told NBC News' Meet the Press. "But what I will tell you is he sits in the Oval Office and in the Situation Room on a daily basis, organizing and coordinating the world when it comes to the delivery of weapons."
Biden has called Putin a "war criminal" and his administration has implemented stringent sanctions targeting the Russian economy as well as Moscow elite. The U.S. has rapidly provided Ukraine with billions of dollars in weapons and humanitarian assistance as well. Zelensky and other top Ukrainian officials have spoken favorably of the U.S. support, while also asking for more from Western nations.