Primoris Services Corporation's (PRIM – Free Report) Energy/Renewables unit has secured two heavy civil contracts from the Texas Department of Transportation. The two contracts, on a combined basis, are worth $32 million.
Shares of this specialty contractor company have gained 1.87% during the trading session on Dec 7, 2021.
The first contract enables Primoris to construct a section of highway SL 121 in Bell County, TX. The project is scheduled to start in first-quarter 2022 and is slated for completion in second-quarter 2024.
With the second contract, Primoris will replace a bridge in Harris County, TX. The work is scheduled to start in first-quarter 2022, with completion expected in second-quarter 2023.
Energy/Renewables' Continuous Contract Win: A Boon
Recently, Primoris received two heavy civil contracts from the Louisiana Department of Transportation and Development for a combined value of $520 million. These Gulf Coast projects will aid the Energy/Renewables segment's backlog. Per the first contract, Primoris will construct a section of highway on LA 3241 for more than $60 million. The second contract, valued at $460 million, is related to constructing a section of elevated highway on LA 1. While work on the LA 3241 is expected to commence in fourth-quarter 2021 and be completed in second-quarter 2023, the same on LA 1 is likely to begin in first-quarter 2022 and end in fourth-quarter 2027.
Also, it received two solar contracts for engineering, procurement, and construction of a utility-scale solar facility in Southwest and Midwest for more than $120 million. Again, PRIM received a contract for engineering, procurement and construction of a thermal power project worth $100 million. The segment secured this contract to offer the above-mentioned services to a 200-MW thermal power in two different locations in the Southwest.
Although shares of this Zacks Rank #5 (Strong Sell) company have underperformed the Zacks Building Products – Heavy Construction industry year to date (YTD), the company has been benefiting from solid performance across the two segments — Utility and Energy/Renewables.
Biden administration's renewable energy drive is expected to boost the growth of companies like Primoris. It is to be noted that solar projects continue to drive the Energy/Renewables segment. This segment's revenues increased 11% and gross margin increased 150 basis points year over year owing to greater renewable energy activity during third-quarter 2021.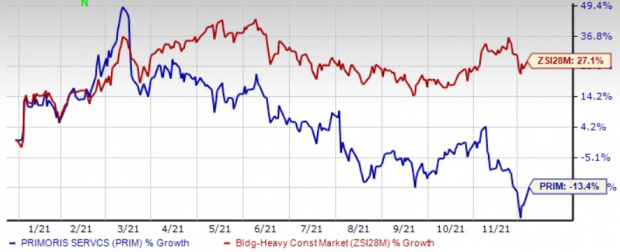 Image Source: Zacks Investment Research
Some Better-Ranked Stocks in the Construction Sector
Beazer Homes USA, Inc. (BZH – Free Report) currently sports a Zacks Rank #1 (Strong Buy). This Atlanta-based homebuilder continues to gain from strong operational execution and persistent strength in the housing market. You can see the complete list of today's Zacks #1 Rank stocks here.
Beazer Homes' shares have gained 47.5% year to date compared with the industry's 33.6% rally. Earnings are expected to grow 23.7% in fiscal 2022.
TRI Pointe Group Inc. (TPH – Free Report) currently carries a Zacks Rank #1. This Irvine, CA-based homebuilder designs, constructs, and sells single-family detached and attached homes in the United States. Robust demand and pricing as well as improved operating leverage have been driving TRI Pointe's performance. Cost-cutting initiatives implemented earlier this year and focus on entry-level buyers have been adding to the positives.
TRI Pointe's shares have surged 57.4% year to date. Earnings for 2021 and 2022 are expected to rise 80.2% and 9.6%, respectively.
Meritage Homes Corporation (MTH – Free Report) currently sports a Zacks Rank #1. Based in Scottsdale, AZ, Meritage Homes is one of the leading designers and builders of single-family homes. Its focus on entry-level LiVE.NOW homes has been a major driving factor.
MTH has gained 45.6% year to date. Earnings are expected to grow 74.6% in 2021 and 21.2% in the next year.