Plan to boost electric vehicles in Arizona gets regulator approval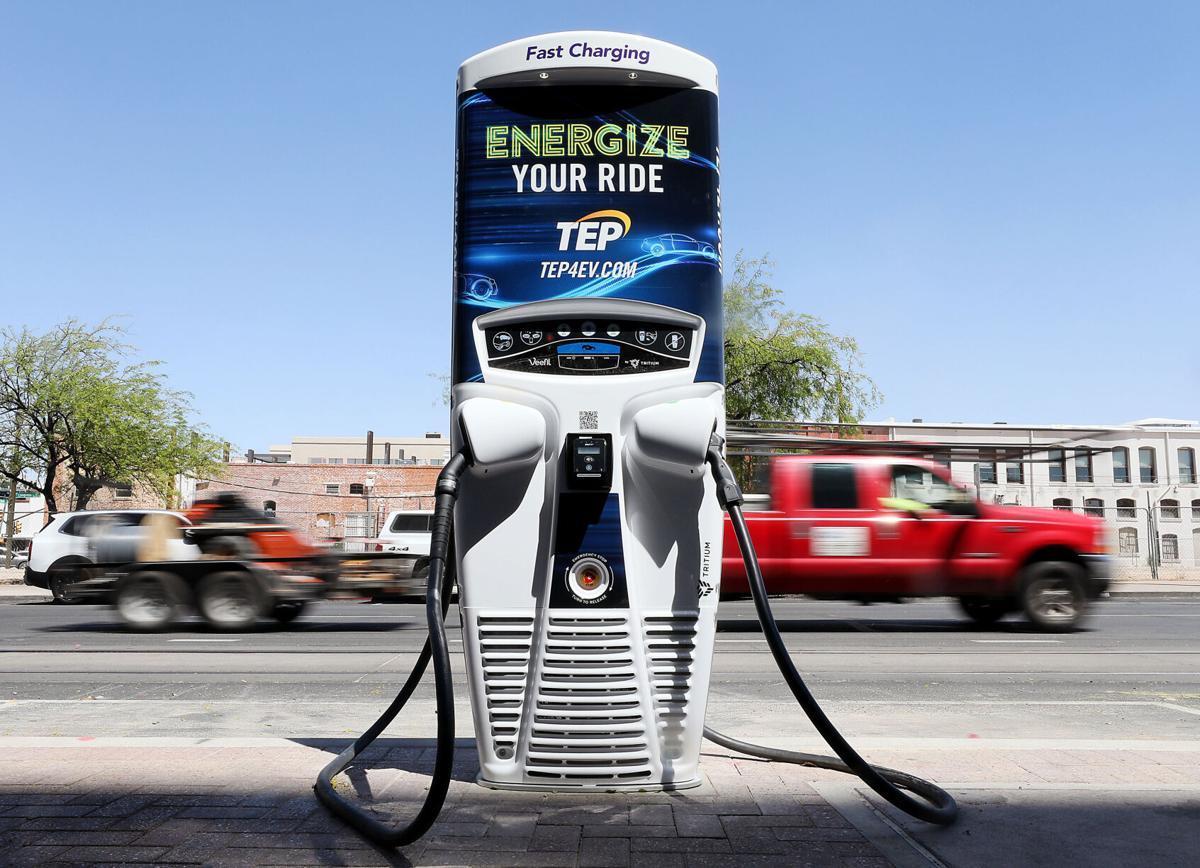 Arizonans could see faster adoption of electric cars — and perhaps have more confidence in keeping their own EVs juiced up — after state regulators approved the final phase of a statewide "transportation electrification" plan.
But new standards governing Arizona's shift to cleaner energy are on hold, after the Arizona Corporation Commission at its open meeting on Wednesday punted on proposed new rules that would require state-regulated utilities, including Tucson Electric Power, to go 100% carbon-free by 2070.
The ACC is now planning to take up the energy rules at its next open meeting in January.
The electric-vehicle plan approved Wednesday follows ACC approval of individual EV support plans filed by TEP and Arizona Public Service Co. at the end of 2019.
Under an initial EV plan approved in 2019, the utilities have already rolled out incentives for customers to charge EVs at home and special rates for businesses that want to charge employee or fleet EVs or companies that offer public EV charging. TEP's sister rural utility, UniSource Electric, is working on similar plans under a separate process.
The second-phase rules spell out how the state's three state-regulated investor-owned utilities — TEP, UniSource Energy Services and Arizona Public Service Co. — must develop policies and rates to support the adoption of EVs as they become widely available.
Driven in part by carbon-reduction goals being adopted worldwide to deal with climate change, automakers are ramping up EV production to put millions of new EVs on the road in the next few years.
The plan approved Wednesday gives the utilities a goal of supporting 1,076,000 new electric passenger cars and light trucks statewide by 2030, plus 3,830 medium-duty delivery trucks, 785 transit buses and 1,425 school buses.
With no help from utilities, the number of EVs in Arizona is expected to increase to about 250,000 by 2030, TEP noted in comments to the commission. That's compared with 28,770 EVs registered in Arizona as of June 2021, according to the U.S. Department of Energy's Alternative Fuels Data Center.
Statewide benefit
The adoption rates in the approved plan were the medium-range recommendations from a study and proposed EV plan commissioned by TEP and APS and issued in March.
The report by the consulting firms Illume and Energy+Environmental Economics cited potential benefits of rapid EV adoption including rate designs that reduce peak loads and take advantage of times with low-priced electricity, increased grid reliability, lower costs to consumers, reduced emissions and other potential social and environmental benefits.
The adoption of personal electric vehicles is beneficial not only to EV owners, but also to utility ratepayers and all Arizonans, with the medium EV adoption scenario resulting in $12 billion in net benefits, the report said.
The study estimated that each new EV on the road would provide net benefits of about $3,600 for participants in lower transportation costs, and $4,500 for utility ratepayers as the additional electric-bill payments by EV customers outweigh the cost of the additional power.
Arizonans overall would realize net benefits of $11,500 in transportation savings, greenhouse-gas reductions and health benefits.
The transportation-electrification plan passed on a 3-2 vote, with Republican Chairwoman Lea Marquez Peterson voting in favor along with Democrats Sandra Kennedy and Anna Tovar.
Kennedy unsuccessfully proposed amending the plan to require TEP and APS to strive for higher EV adoption goals than the medium-range goal recommended by the commission staff.
She said adoption of a high-end adoption rate of nearly 1.5 million light-duty EVs by 2030 would save Arizonans and additional $11 million.
Marquez Peterson said she couldn't support the higher EV adoption goals because she didn't have enough cost data, but she supported the plan with the midrange adoption rate without comment.
Commissioner Justin Olson, a conservative Republican, reiterated his stern opposition to the EV plan.
"It is my view that this approach is outside of the scope of the commission's authority," Olson said. "We don't have the authority to subsidize an industry, we don't have the authority to regulate the environment, we have the authority to set just and reasonable rates."
Commissioner Jim O'Connor, a Republican, abstained from voting without comment.
Though she voted for the plan in the end, Marquez Peterson said she was still concerned about costs and urged the Legislature to enact EV policies in light of limited commission authority.
Before final passage, the commission approved several amendments proposed by Tovar and Márquez Peterson and supported by environmental and consumer groups that require the utilities to develop and file for future commission approval budgets associated with their respective plans and to report semi-annually on their progress.
Three conservation and public-interest groups — Western Resource Advocates, the Arizona Public Interest Research Group Education Fund and the Southwest Energy Efficiency Project (SWEEP) — lauded the commission for approving the EV plan.
"All Arizonans stand to benefit from this plan, even those who don't drive electric," said Ellen Zuckerman, utility program co-director for SWEEP. "With more electric cars on our roads, we can lower utility rates, improve air quality, and boost public health outcomes. This decision sends a strong signal that Arizona is serious about transportation electrification and all of its great benefits."
Get the latest local business news delivered FREE to your inbox weekly.