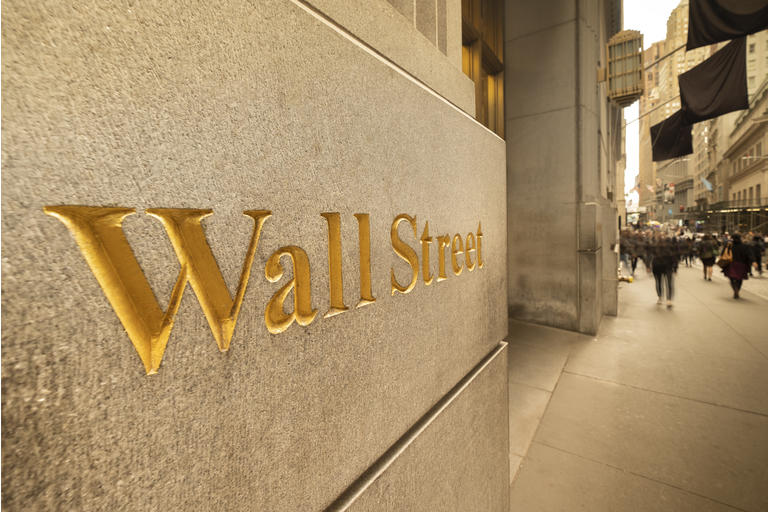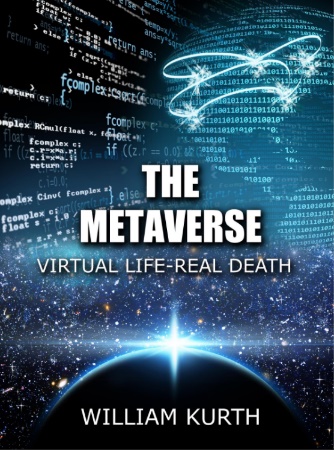 I will begin by recommending that you nibble a few shares of Metal Arts/Medium (OTCPK:MTRT). I expect this stock to be included in at least 1 and probably all of the below in the next 12 months. Presently, the stock is "below the radar." You can "tool up" on the stock quickly by watching the YouTube videos in this Seeking Alpha blog and read the follow-up, if interested, in this Seeking Alpha article. I suspect that the firm name – Medium – represents a shortened variation for "medium of exchange," since they are, also, involved in cryptocurrency.
I do NOT believe that USEI [see above Seeking Alpha article link] to be included in any of these ETFs and I do NOT believe that Metaverse Capital (OTCPK:GBCHF) [coverage initiated below] will be included in any of these ETFs. However, in the case of the latter, you might make a note of this one for a "trade", just in case it ever achieves Pink Current status.
The 6 Exchange Traded Funds Positioned for the Metaverse
There will be other exchange traded funds [ETFs] entering the Metaverse "sector" of the worldwide economy, and I suspect I have missed some, but these descriptive statistics provide a starting point. What I found most interesting, as I downloaded the stocks in each fund into a single Excel file, was that no single stock holds the #1 position with respect to the status of "largest percentage holding" for any of the 6 ETFs: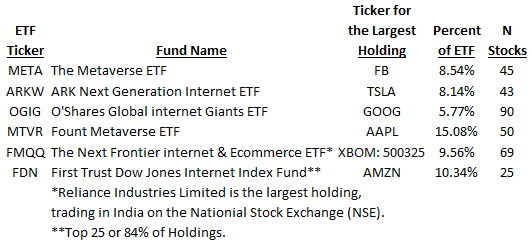 Sources: FB, TSLA, GOOG, AAPL, XBOM:500325, and AMZN
Below is the 1-year chart for all 6 of the above ETF tickers: [1] (META), [2] (ARKW), [3] (OGIG), [4] (MTVR), [5] (FMQQ) and [6] (FDN). I used my Fidelity account to develop this graphic on January 9, 2022, as follows: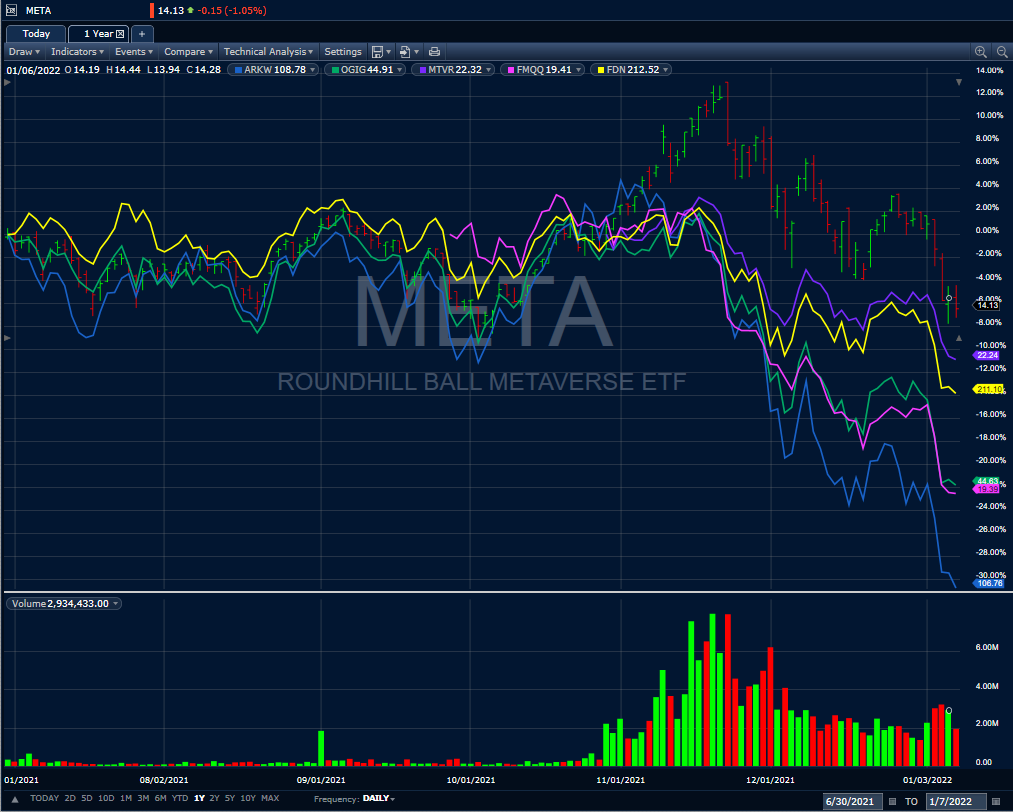 Some of these metaverse ETFs have not been available for an entire year, so I, also, developed a chart starting from November 1, 2021, and running through Friday, January 9, 2022. Early November is when most sell their "losers" to match them against their "winners" to reduce capital gain taxes (i.e., tax loss selling). I wanted to see if there was any evidence of this. There may be, but toward the latter part of November [see below chart]. This could fit with "wash sale" rules, since you only need to be out of the security for 30 days to realize the tax loss and re-enter the security without risking the "wash" associated with the "round-trip," if you prefer to employ this strategy to maximize tax losses. Again, this chart was developed using my Fidelity account to develop this graphic on January 9, 2022, as follows: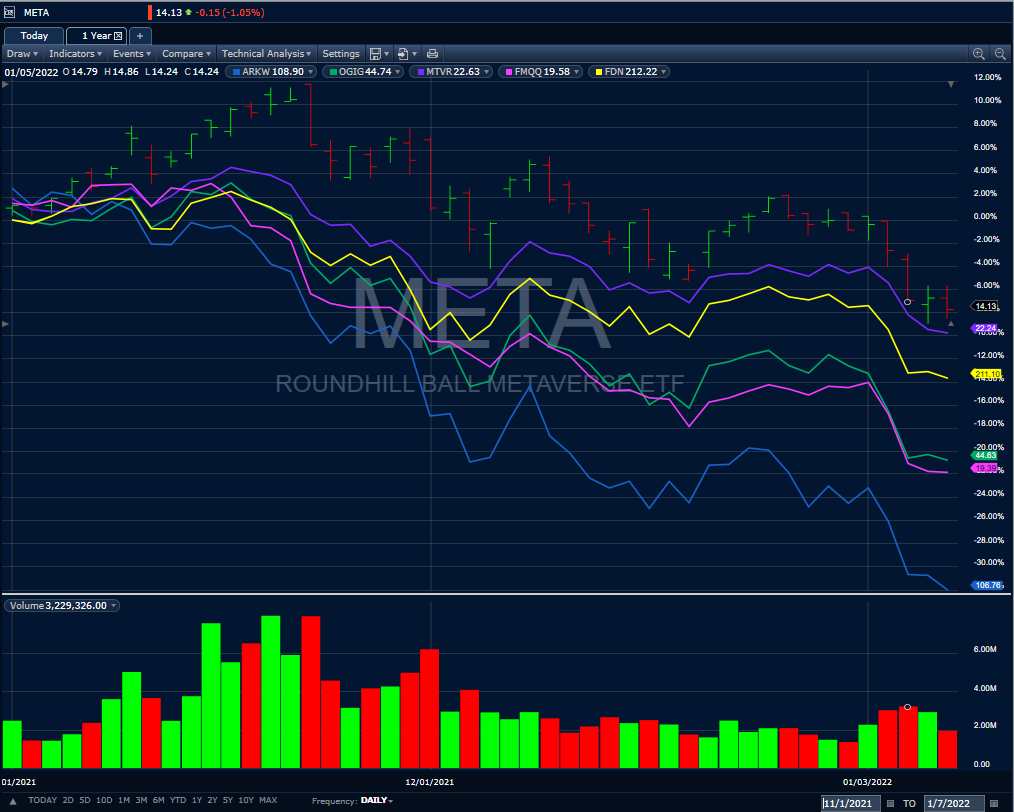 Note that all 6 metaverse stocks declined, but the META ETF appears to be the best performer in both of the above graphics. This could be a function of the name of the ETF (e.g., METAverse). It is easy to identify, using a keyword search, and, therefore, is likely to attract more cash inflows into the fund or ETF.
The Operational Definition of "Metaverse"
The operational definition of the "metaverse" has not yet evolved or been narrowed down. Instead, it includes so many components that the focus had been broadened and remains quite broad. Below is the result of a Google search to see just how Wikipedia defines the "metaverse":
A metaverse is a network of 3D virtual worlds focused on social connection. In futurism and science fiction, the term is often described as a hypothetical iteration of the Internet as a single, universal virtual world that is facilitated by the use of virtual and augmented reality headsets.
The 1992 science fiction book and author credited with the term follows: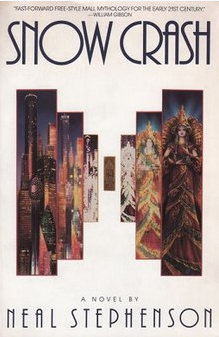 This ties in very nicely with "blockchain" and the decentralization of transparent and verifiable systems, but goes far beyond this more narrow focus.
Metaverse Capital Corporation
Metaverse Capital Corporation (formerly, Global Blockchain Mining Corporation until May 2019) (OTCPK:GBCHF) [CSE: FORK] trades on the expert market:

The otcmarkets.com site shows a cease trade order, as follows:

The below is, also, from the otcmarkets.com site:
An initial review by a broker-dealer under SEC Rule15c2-11 is required for brokers to publish competing quotes and provide continuous market making.
Note the similarities between U.S. Energy Initiatives Corporation in this Seeking Alpha article and Metaverse Capital Corporation. I am referring to the corporate name change from one that includes the keyword "blockchain" to the broader and blockchain inclusive keyword "metaverse." Of course, there are other differences.
GBCHF has an "F" suffix meaning "foreign." Headquartered out of British Columbia in Canada, the Metaverse Capital Corporation received a "cease trade order" on January 1, 2020. Below is a chart I produced on January 10, 2022, before the market opened and using my Fidelity account: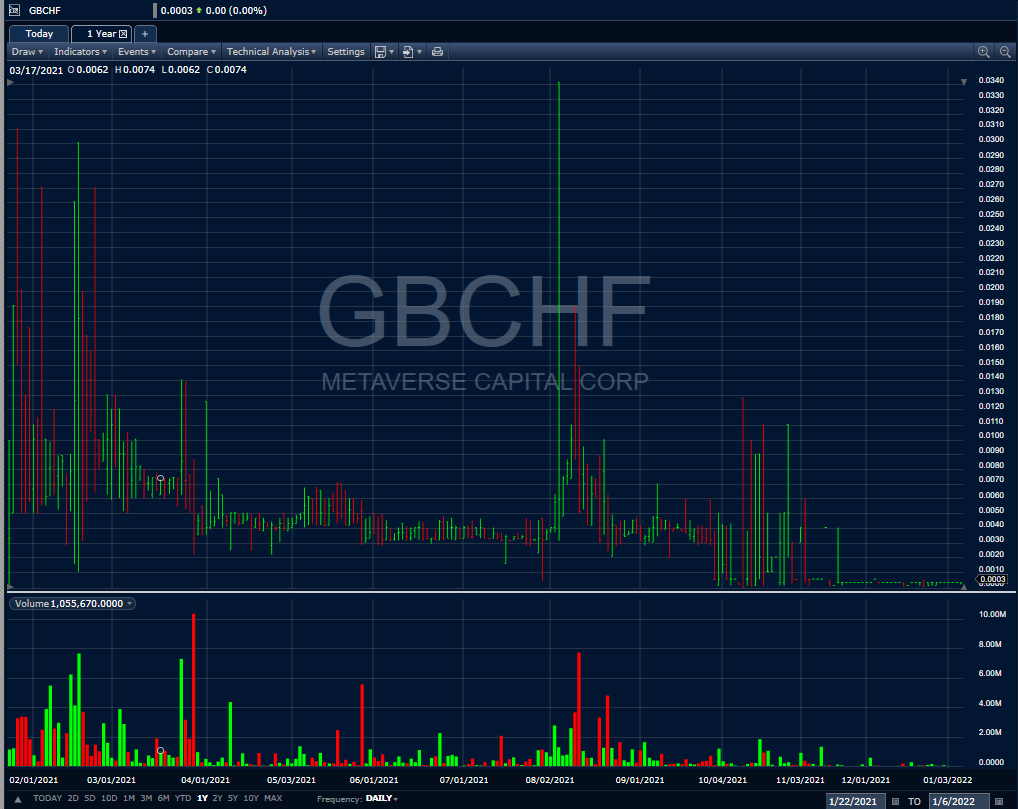 Note the volatility in the above chart and the collapse of trading – a function of the expert market classification and Securities and Exchange Commission Rule 15c2-11, prohibiting buying from U.S. accounts. The volatility is, of course, the appeal for this sub-penny "trading" stock.
Summary
This article identifies 6 metaverse ETFs. In aggregate, they include N=239 metaverse stocks. I will add the 3 stocks I have identified to this universe or population of metaverse stocks, for a total of N=242 metaverse stocks. Of the 3 stocks I have identified, I suspect that one – MTRT – represents a good, long-term investment and is likely to be included in 1 or more of the 5 ETFs, probably during the 2022 calendar year. In this and an earlier Seeking Alpha article, I have provided some mini cases or fact patterns for penny or sub-penny trading stocks (e.g., USEI and GBCHF). There will be more of these.
POSTSCRIPT: My other Seeking Alpha Articles Covering Metaverse Stocks
My other Seeking Alpha articles covering metaverse stocks include: Block, Inc. (NYSE:SQ), PayPal Holdings, Inc. (NASDAQ:PYPL), and U.S. Energy Initiatives Corporation, Inc. & Metal Arts Company, Inc./Medium, Inc. My starting point for identifying metaverse stocks is the META exchange traded fund. USEI, MTRT, and GBCHF were NOT included in that fund. I will attempt to identify additional metaverse stocks until I have exhausted the universe of equity securities in this growing "sector" of the worldwide economy. If I recommend one of these stocks, it is as long-term investments and not as day-trades, unless otherwise stated (e.g., USEI & GBCHF).
Note
Readers can reach out to me if they would like to receive the database as an Excel file.
This article was written by
Full name for licenses is Anthony Joseph ("A.J.") Cataldo II.  Retired university accounting professor, CPA, CMA, CGMA and author of 10 books and 200+ articles and columns in 50+ different journals and outlets, with experience as CFO, Government Auditor, Public Accountant and Litigation Support Expert Witness in cases involving GM, Ford, and other big cap firms.  Years ago, the Securities and Exchange Commission used 3 of my research articles in a fraud case.  I have taught at 10 universities including Northeastern & UCBerkeley (online and during Covid).Paige Whiteside is my niece, a Master's of Finance student at the University of Arizona, with an undergraduate degree from Arizona State University, and I have encouraged her to submit some articles to Seeking Alpha for publication consideration.  We will not be covering the same stocks or securities, we will not be commenting on each other's content, and, as required by Seeking Alpha, and appropriately so, I am disclosing this association/relation in my profile bio.
Disclosure: I/we have a beneficial long position in the shares of MTRT either through stock ownership, options, or other derivatives. I wrote this article myself, and it expresses my own opinions. I am not receiving compensation for it (other than from Seeking Alpha). I have no business relationship with any company whose stock is mentioned in this article.