A tornado in northwest Louisiana, close to the Texan border, has left people trapped in their homes and damaged buildings, including in Bossier City and southeast Shreveport.
The adverse weather caused thousands of people to lose power across the state. As of early Wednesday morning, there were 69,738 households with outages, according to PowerOutage.US. There was also many outages in New Mexico and in neighboring Texas, with 10,350 and 64,154 homes without electricity respectively at time of writing.
Several people were trapped along Alfred Lane and Pecan Acres mobile home park off Barksdale Boulevard, according to a KSLA report on Wednesday.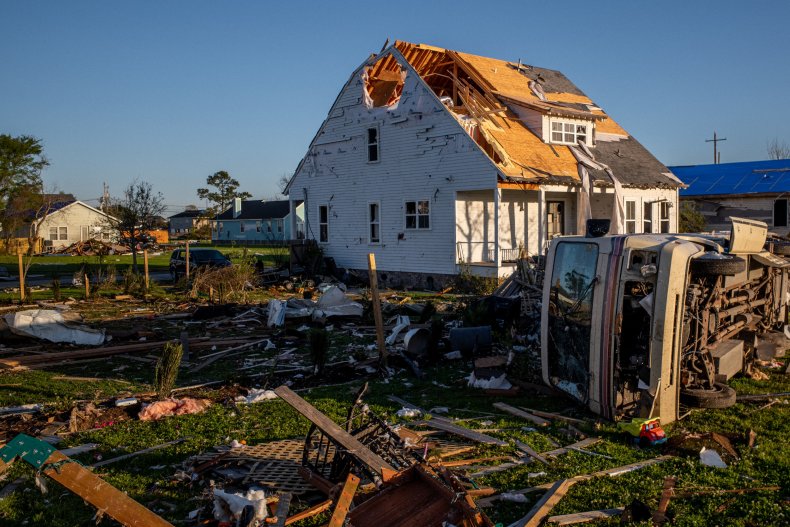 The local news channel reported that those along Alfred Lane had been rescued. It said a tree had fallen on a mobile home in Southgate Mobile Home Park in Bossier City and other mobile homes had also been damaged.
There were also reports of damaged homes, but no injuries. This includes fencing and trees falling along Sunflower Road in Bossier City.
Sheriff Julian Whittington told KSLA the damage wrought by the tornado was all over the parish "[…] but it's nothing we can't live through and get over."
"All in all, we've been very, very fortunate," he said.
The Shreveport Times posted photos of the damage, which showed a fallen tree outside Bossier Elementary School blocking a road and knocking over power cables.
The Plantation Trace Mobile Home park in Bossier City was also damaged by the severe weather.
Newsweek has contacted the Bossier Sheriff's Office for more comment.
Another tornado reportedly touched down around Hosston, Louisiana.
Meanwhile, in the south of Louisiana, on Tuesday evening, National Weather Service New Orleans reported gusty winds, heavy rainfall and frequent lightning moving through Hammond and Independence, west of New Orleans. Many buildings in New Orleans were severely damaged when two tornadoes hit the city in March.
The National Weather Service put Louisiana on tornado watch on Tuesday, with the parishes of Catahoula, Concordia, East Carroll, Franklin, Madison, Morehouse, Richland, Tensas and West Carroll affected.
On Tuesday, there were tornadoes reported for a second consecutive night across the Midwest and the Missouri Valley.
Iowa and Minnesota were also under tornado warnings through midnight local time.
A social media video shows a tornado appearing to touch down near Humboldt, Iowa on Tuesday evening.
Bell County's judge in Texas released a statement Tuesday night claiming that one person was in critical condition from tornado damage in central Texas, and that 23 people had been injured altogether.
Several homes and other buildings were damaged from tornadoes in the central Texas region.