1 min ago
Australian financial sanctions, travel bans against Putin and other Russian officials come into effect 
From CNN's Hannah Ritchie in Sydney, Australia 
Australian travel bans and targeted financial sanctions against Russian President Vladimir Putin and senior members of his government are now in effect, the country's Prime Minister Scott Morrison confirmed in a statement Monday. 
"From midnight last night, Australian targeted financial sanctions and travel bans came into effect on the Russian President and remaining permanent members of Russia's Security Council: Foreign Minister Sergei Lavrov, Defence Minister Sergey Shoigu, Prime Minister Mikhail Mishustin, and Internal Affairs Minister Vladimir Kolokoltsev," a statement from Morrison's office said. 
"It is exceedingly rare to designate a head of state and reflects the depth of our concerns. President Putin joins a very small group that includes Robert Mugabe of Zimbabwe, Mu'ammar Gaddafi of Libya, and Bashar al-Assad of Syria," it continued. 
The Australian government has also committed to providing lethal and non-lethal military equipment, medical supplies, and financial assistance to support Ukraine, as well as contributing US $3 million to NATO's Trust Fund for Ukraine. 
"Details of Australia's contribution of lethal military equipment are being worked through with our partners and will be announced soon," Morrison's office said. 
The Morrison government had previously only committed to sending non-lethal military equipment to Ukraine. 
Australia has now sanctioned more than 350 Russian individuals and 13 Belarusian individuals and entities including Belarusian Minister of Defence Viktor Khrenin, since Russia invaded Ukraine last week. 
The US, along with the European Commission (EC), France, Germany, Italy, the UK, and Canada, announced on Saturday they would expel certain Russian banks from SWIFT, the high-security financial network that facilities the smooth and rapid transfer of money globally. 
On Monday, Morrison's office said Australia would "take complementary steps as required," to block Russia's access to SWIFT. 
26 min ago
Ukraine claims successful drone attacks against Russian forces
From Tim Lister in Kyiv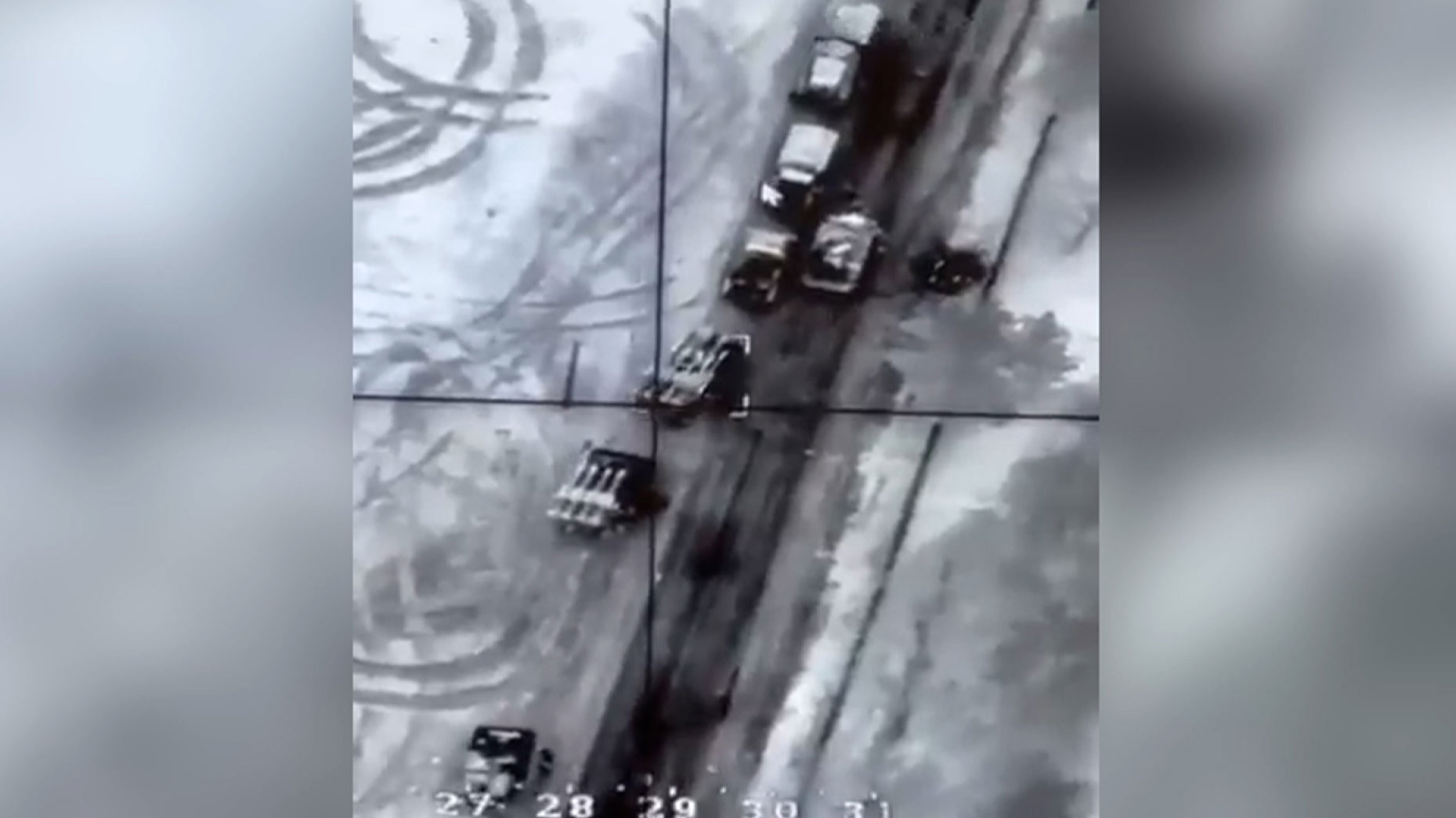 The Ukrainian military has claimed successful attacks by its Turkish-made force of drones against Russian forces.
On Sunday, the Armed Forces of Ukraine released footage showing the destruction of armor by a drone, and said it was carried out against a Russian BUK surface-to-air missile system.
Valerii Zaluzhnyi, the Armed Forces Commander-in-Chief, said the drone attack took place near the town of Malyn, 100 kilometers (about 62 miles) northwest of Kyiv.
The Ukrainian government began receiving the Bayraktar TB2 drones from Turkey last year.
42 min ago
UN Security Council members must keep Russia accountable for invading Ukraine, US Ambassador to UN says
From CNN's Artemis Moshtaghian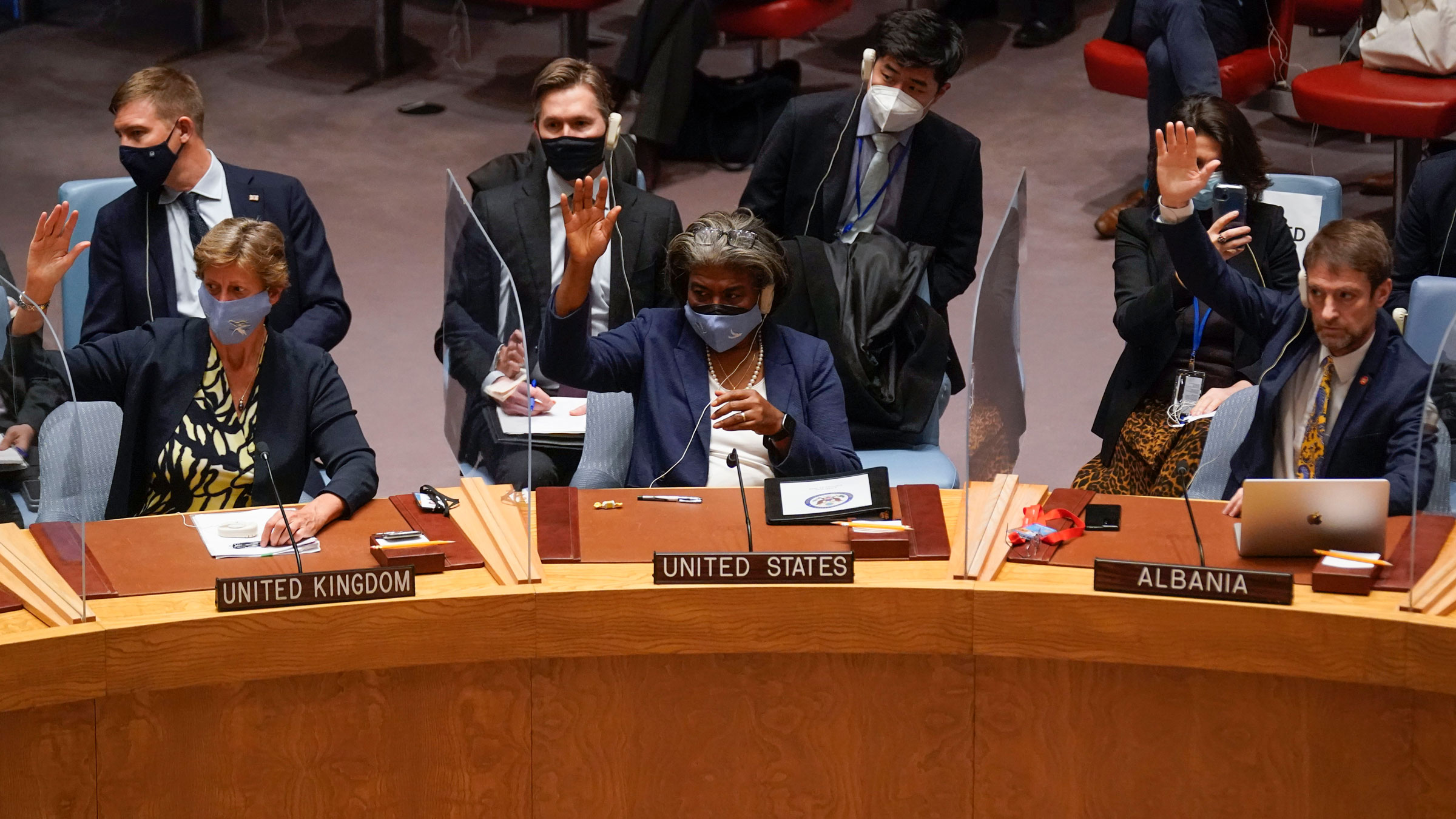 United States Ambassador to the United Nations Linda Thomas-Greenfield said the UN Security Council has taken a critical step in holding Russia accountable for invading Ukraine.
The Security Council has taken an important step forward toward that accountability. For the first time in decades, it has called for an Emergency Special Session in the General Assembly," Thomas-Greenfield said in a statement Sunday.
Thomas-Greenfield said President Vladimir Putin put Russia's nuclear forces on high alert Sunday morning, "even though he is invading a country with no nuclear weapons and is under no threat from NATO, a defensive alliance that will not fight in Ukraine."
"These are issues that affect all Member States. And now, in the General Assembly, they can all make their voices heard on Russia's war of choice," Thomas-Greenfield said. "We will then vote on a resolution that will hold Russia to account for its indefensible actions and for its violations of the UN Charter.
"We are alarmed by the mounting reports of civilian casualties, videos of Russian forces moving exceptionally a lethal weaponry into Ukraine, and the widespread destruction of civilian facilities like residences, schools, and hospitals," the US Ambassador to the UN said.
Thomas-Greenfield said those member states that are sitting safely in "this hallowed hall" have a moral responsibility to react to Russia's actions in Ukraine by providing humanitarian aid and military support.
57 min ago
4,000 US Army troops deployed in Europe have tour of duty extended
From CNN's Barbara Starr
More than 4,000 US Army troops who were deployed to Europe on a temporary basis will now have their tour of duty extended — likely for several weeks — as part of the US effort to reassure eastern European allies during the current crisis in Ukraine.
The 1st Armored Brigade Combat team of the 1st Infantry Division had been scheduled to return to the US next month after a nine-month tour in Europe. But the team will now stay and continue training and deterrence missions with nations that could include Poland, Romania and the Baltics.
"I don't want to speculate on a timeline, but be assured it will only be for as long as they are needed," John Tomassi, a spokesman for the Army in Europe, told CNN in an email.
In addition to the brigade, there are additional support troops that will be extended. For several years, the army has regularly rotated combat brigades, along with the armored vehicles in and out of Europe, to help maintain a US military presence.
"The deployment of ready, combat-credible US forces to Europe in support US Army Europe and Africa is evidence of the strong and unremitting US commitment to NATO and Europe," Tomassi said in a statement confirming the details.
"As we continually assess changes in the strategic and operational environment, select units have been extended to provide the forces needed to augment our NATO allies and partners. The units that have been extended provide unique skills and reinforce our role of supporting our NATO allies and partners capable, ready and resilient forces. While we understand the toll this extension takes on not only our soldiers, but also their families, we as a nation must remain committed to the security of Europe. Our presence reinforces our ironclad commitment to NATO, assures our allies and deters future aggression."
11 min ago
UK to provide additional $53 million inhumanitarian aid to Ukraine, prime minister says
From CNN's Lauren Kent and Niamh Kennedy in London.
The United Kingdom will provide an additional $53 million (£40 million) in humanitarian aid to Ukraine amid the Russian invasion of the country, according to the UK Prime Minister's office. 
The additional aid was granted following Prime Minister Boris Johnson's discussion with his Ukrainian counterpart, President Volodymyr Zelensky, and meetings with Ukrainian community leaders in London over the weekend.
The funding will help "aid agencies respond to the deteriorating humanitarian situation, creating a lifeline for Ukrainians with access to basic necessities and medical supplies such as medicines, syringes, dressings and wound care packs," according to the news release. 
During their conversation on Saturday evening, Zelensky informed Johnson of "the critical need for humanitarian assistance as people are forced to flee their homes and seek safety," the news release said. 
As concerns mount amongst Ukrainians living in the UK, Johnson said Sunday "any person settled in the UK will be able to bring their Ukrainian immediate family members to join them here." 
Johnson stressed in the statement the UK "will not turn our backs in Ukraine's hour of need," adding this latest package "brings the total amount of UK Government aid pledged to Ukraine this year to £140 million," which equals $186 million.
UK Foreign Secretary Liz Truss added the funding would help Ukraine "tackle what is becoming a humanitarian crisis."
1 hr 19 min ago
UK Prime Minister "doubts" Russia President's sincerity in entering talks with Ukraine
From CNN's Niamh Kennedy in London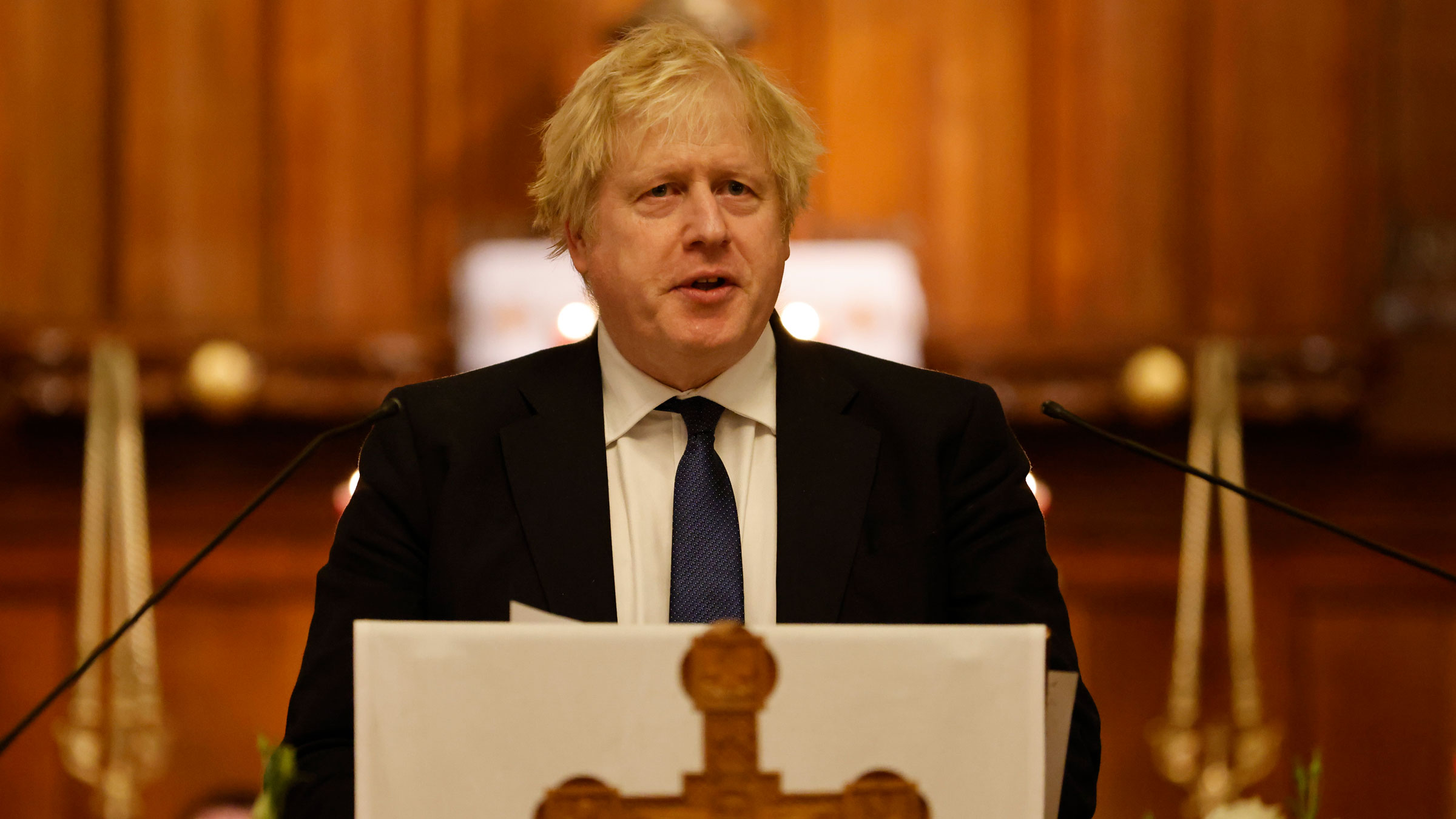 UK Prime Minister Boris Johnson "doubts" Russian President's Vladimir Putin's "sincerity" in entering talks with Ukraine.
Talks between Ukrainian and Russian representatives are set to begin at the Belarus border on Monday morning local time, according to Ukrainian officials.
Speaking to reporters in the Ukrainian Catholic Cathedral in London on Sunday, Johnson said Putin has "decided to wage a war of choice against the people of Ukraine."
If he wants to stop, if he wants to withdraw, if he wants to negotiate, that's very good news. I have my doubts, I've got to tell you. Nothing I've seen so far in his behavior that leads me to think that he could possibly be sincere," Johnson said.
The prime minister continued if his Russian counterpart is sincere, he "needs to withdraw his war machine from Ukraine."
Johnson said Putin's decision to place his country's deterrence forces, including nuclear arms, on high alert is "a distraction from the reality of what's going on in Ukraine."
He pointed toward "some of the logistical difficulties that the Russian forces are experiencing," also referencing recent Russian concessions of casualties.
"This is a disastrous, misbegotten venture by President Putin. It can lead to no good whatever, for Russia, as we in the West have said continuously from the beginning. It needs to end. If he has a proposal to negotiate and withdraw, then all the better," Johnson emphasized.
1 hr 15 min ago
Largest aircraft in the world destroyed at Ukrainian air base
From CNN's Pete Muntean and Paul P. Murphy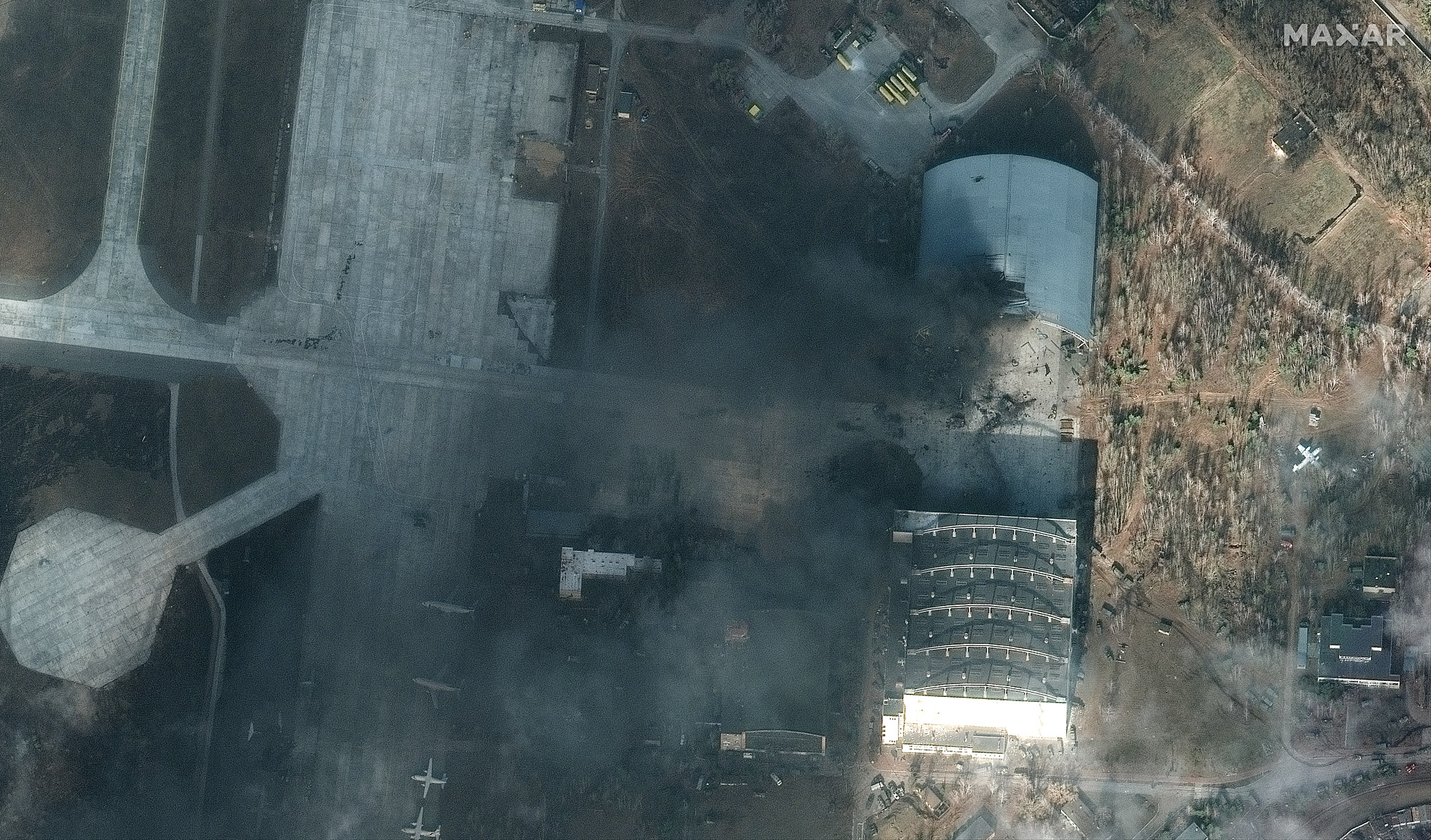 The world's largest aircraft, the Antonov AN-225 Mriya, was destroyed by a Russian attack on an airport near Kyiv, according to the Ukraine government official Twitter account.
Russia may have destroyed our 'Mriya,'" said Dmytro Kuleba, Ukraine's minister of foreign affairs. "But they will never be able to destroy our dream of a strong, free, and democratic European state."
Mriya, which translates to "dream," had been sitting in its hangar at a Ukrainian air base in Hostomel, which had been the site of intense clashes on Thursday when the Russian military took control of the airbase. 
Satellite images from Maxar Technologies show significant damage to part of the hangar in which the AN-225 is stored.
NASA's Fire Information for Resource Management System detected multiple fires at the airport, including at the hangar where the plane is stored. A fire took place at the hangar where the plane is kept and was detected at 11:13 a.m. on Sunday, according to the NASA data.
NASA obtained the fire data from a number of NOAA and NASA satellites.
It is not clear if the fires at the airport are the result of actual fires or explosions from military strikes.
1 hr 7 min ago
Satellite images show more than three-mile-long Russian military column on roadway to Kyiv
From CNN's Paul P. Murphy.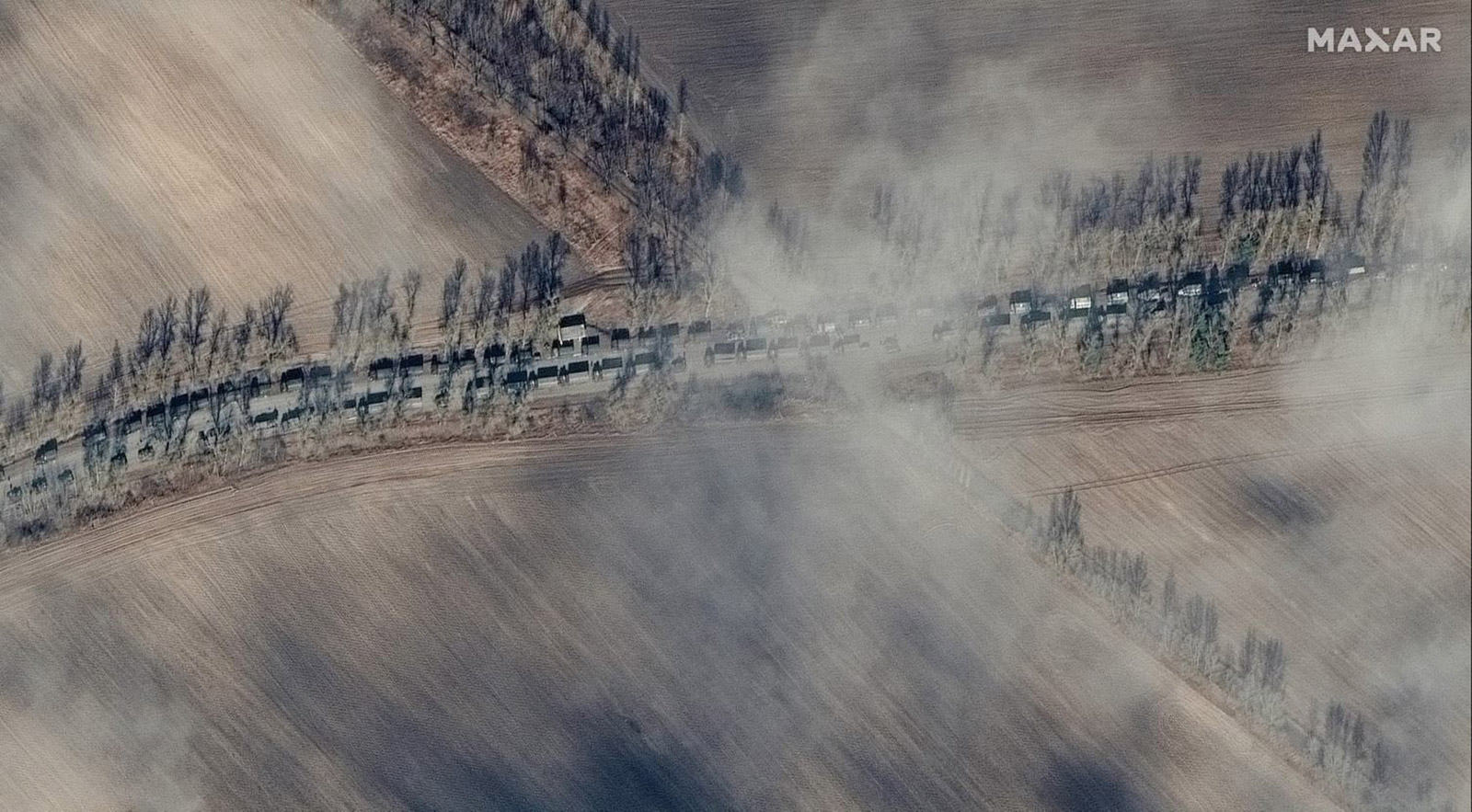 As Ukrainians continue to repel Russian advances around Kyiv, new satellite images show a more than 3-mile-long Russian military convoy is on a roadway that heads toward the capital city.
According to Maxar, the convoy was seen on satellite images on Sunday around 10:56 a.m. local time on the P-02-02 road near Ivankiv, which is about 40 miles (60 kilometers) northwest of the Ukrainian capital. The P-02-02 road goes toward Kyiv.
Maxar identified fuel and logistical trucks, in addition to tanks, infantry vehicles and self-propelled artillery moving in the convoy.
See the images:
2 hr 12 min ago
Ukraine files claim against Russia with International Court of Justice
From CNN's Melissa Gray and Jennifer Z. Deaton.
Ukraine has filed an application to institute proceedings against Russia before the International Court of Justice (ICJ) for a "dispute … relating to the interpretation, application and fulfillment of the 1948 Convention and Prevention of Punishment of the Crimes of Genocide," according to an ICJ news release on the filing.   
In the application, Ukraine says Russia has "falsely claimed that acts of genocide have occurred" in the separatist regions of Luhansk and Donetsk, adding Russia then subsequently declared and implemented a "special military operation" against Ukraine, the news release says.
President Volodymyr Zelensky announced the news on Twitter, requesting an "urgent decision" from the ICJ.
Ukraine also accuses Russia of "planning acts of genocide" in the country and says Russia is "intentionally killing and inflicting serious injury on members of the Ukrainian nationality," according to the news release.