The USA Today headline said all you need to know to understand why Decentraland (MANA-USD) jumped 10% on Feb. 15.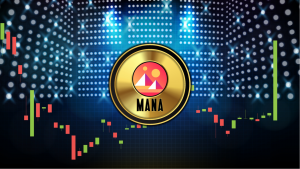 Source: moxumbic / Shutterstock.com
"JP Morgan is first bank to enter the metaverse with a virtual 'Onyx lounge,'" blurted the headline. It seems that the bank just got prime space in a virtual version of Tokyo's Metajuku district where it's located an Onyx lounge, ostensibly to raise the profile of its Onyx by J.P. Morgan blockchain-based payments network.   
JPMorgan (NYSE:JPM) CEO Jamie Dimon once called Bitcoin (BTC-USD) a fraud. Now, his bank is trying to become a leading voice in the metaverse. 
Regardless of JPMorgan's intentions, the news is good if you own some MANA-USD, Decentraland's native token.
Despite Meta Platforms' (NASDAQ:FB) poor quarter resulting from its commitment to the metaverse along with lower advertising revenue, the long-term prognosis for a virtual world seems all but inevitable. 
Therefore, as more companies jump on the metaverse bandwagon, Decentraland ought to prosper. JPMorgan's latest move could be just what the doctor ordered.
Decentraland and the Metaverse
The USA Today article I referenced in the intro linked to an 18-page report from the bank about the opportunities in the metaverse. Decentraland is mentioned 14 times. Several of the mentions stand out. 
For example, Page 7 of the report states:
Ethereum-based platforms like Decentraland, for example, are already selling virtual plots that people can develop. Virtual real estate is a growing market. The average price of a parcel of land doubled in a six-month window in 2021.
It states that one land package on Decentraland was acquired by Every Realm (formerly Republic Realm) for $913,000. Every Realm turned around and developed the land into the Metajuku district, where JPMorgan put its Onyx lounge. 
The demand for virtual stores is driving virtual land prices higher. I don't see that diminishing anytime soon. Retailers and top brands know they'll have to have a metaverse presence in the future, just as they knew five to 10 years ago that they'd need an e-commerce strategy. 
To see what Decentraland's like, I visited the Onyx lounge. Within a couple of minutes, I could tell that it could be a genuine time-waster if you let it. I'm likely not JPMorgan's target in the metaverse.
Nonetheless, there is no question that the test cases for metaverse uses will rise exponentially in 2022 and beyond. For example, the JPMorgan report pointed out that a recent virtual concert in Fortnite grossed $20 million and was seen by more than 45 million people. 
Who knows, maybe the Rolling Stones can do concerts from their long-term care facilities well into their 90s. 
Page 9 of the report states:
It will be interesting to see how marketing and advertising pans out, as it is potentially one of the biggest segments of the meta-economy. There are huge opportunities for branding and immersive ad experiences in virtual worlds due to the mass audiences available.
I couldn't agree more. 
The metaverse holds more potential than non-fungible tokens (NFTs) in many respects.
The Negative Aspects of the Metaverse
One of the most obvious is that a big chunk of the world's population doesn't have access to fast internet, an essential requirement for maximizing the metaverse experience. JPMorgan's report mentions how it will positively affect those living in low-income countries. Without high-speed internet, I'm not convinced. 
As I mentioned, I went to the Onyx lounge, and it told me I needed a better graphics card to enjoy the metaverse fully. Unfortunately, I'm not prepared to spend more money on my computer, so I can be sold stuff by the same brands already trying to sell me things in the real world. That would be the equivalent of banging my head on the wall.
Also, considering how much time people already spend on their phones, do we need another reason to be anti-social? There's a fine line between gaming being a way to relax and an addiction. The same applies to the metaverse. 
I'm sure there are plenty of other possible negative consequences of the metaverse. But I don't need to trot them out at this point. Ultimately, like many things in life, you are your own best judge of what's appropriate for you. So, govern yourself accordingly.
As for Decentraland, it's an interesting twist on playing cryptocurrencies. As I said in January, I'm still not sold, but I'm warming to it. 
If you're a large retailer or brand, or even a small merchant trying to be unique, Decentraland is a no-brainer. 
If you own MANA-USD, give thanks to Jamie Dimon and company. It just gave your investment a big boost.
On the date of publication, Will Ashworth did not have (either directly or indirectly) any positions in the securities mentioned in this article. The opinions expressed in this article are those of the writer, subject to the InvestorPlace.com Publishing Guidelines.
Will Ashworth has written about investments full-time since 2008. Publications where he's appeared include InvestorPlace, The Motley Fool Canada, Investopedia, Kiplinger, and several others in both the U.S. and Canada. He particularly enjoys creating model portfolios that stand the test of time. He lives in Halifax, Nova Scotia.