Bills Hilts Jr.: Your guide to the Western New York Sport and Travel Expo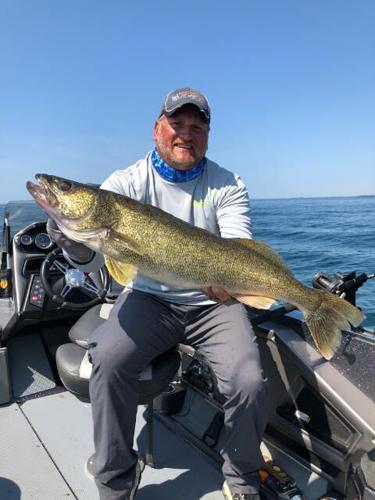 Bill Hilts Jr.
It's been a long winter so far. At least it seems that way. Spring is just around the corner, only a few weeks away. The days are getting longer, and temperatures are slowly increasing.
You have an itch to get outside, maybe make some vacation plans, schedule a hunting or fishing trip, pick up some outdoor gear and get some of those juices flowing again in anticipation of some Great Lakes fishing action, inland stream fishing and spring turkey hunting.
Your one-stop shop for it all should be the Western New York Sport and Travel Expo at the Erie County Fairgrounds, March 10-13, in Hamburg.
The sport show circuit has been negatively impacted by the pandemic the last couple of years. Shows in Niagara Falls, Suffern and Pittsburgh were canceled this year for a variety of reasons. Even the WNY Sport and Travel Expo, which locals refer to as the "Hamburg Sport Show," has had issues and problems, but organizers said they are going to pull off some semblance of a show, no matter what it takes.
"In the past, we've filled four different rooms at the fairgrounds," said Mark Concilla, president of Erie Promotions. "This year, we will only have one. The biggest issue has been with the supply chain of products for vendors."
Another problem has been with some of the restrictions regarding travel for many of the exhibitors.
"After we get through this year, we hope to get back to some normalcy for 2023," Concilla said. "Because of the reduced size of the show, we are lowering our admission price to $8 for adults. Kids 10 and under will be admitted for free."
Despite the reduced size, Concilla said he is happy with what they have put together for the main event hall.
"We have a lot of merchandise that is being offered this year," Concilla said. "There is a good mix of fishing, hunting and general outdoors equipment, including some boats, ATVs, hunting blinds and stands, as well as other gear. There are plenty of outfitters and charter captains, as well as numerous tourism destinations."
The pieces of this outdoor puzzle have been put together. It's up to you to get the most out of it that you can. One person who is a wealth of knowledge is Capt. Jim Steel of Dream Catcher Sportfishing and co-host of the television show "Experience New York Outdoors" with Capt. Codey Allen of Lake Affect Fishing Charters.
Steel will be giving seminars on Lake Erie walleye fishing. On Thursday, Friday and Saturday, his focus will be on "Success Trolling for Walleye." He will discuss tactics for Lake Erie, but some can work for other bodies of water, too. He will probably pull in Allen for the talks, which will start with some of the basics. However, he intends to slowly progress into some of the moderate angling information and even move into advanced information for the lake.
"It's been a while since anyone has been attending seminars, and we don't want to leave anyone out," Steel said. "Our seminar on Saturday, 'Fishing Tips and Tactics for Lake Erie,' will be on whatever the people want to know. It will be more of a panel question and answer session with myself, Allen and Jeff Phillips with Knot Right Charters out of Barcelona. We will be happy to help in any way we can."
Steel also pointed out that he will have plenty of equipment on hand through his Innovative Outdoors booths.
"I will be talking about specific products during my seminars that work best for me," he said. "We have plenty of Okuma rods and reels, Church boards and other gear from Torpedo, Challenger and 3-D. We are there to make you a better fisherman."
If you are just starting out with fishing, it's not a bad idea to hook up with a charter captain, initially, to get some of the basics down with an on-water lesson from some of the best. There will be several at the show whom you can talk to one-on-one.
If you are there to make it a family outing, the Southtowns Walleye Association will again be taking care of its trout pond for the kids. The group also will have a booth to explain the value of joining the club. The Women in the Outdoors will be holding a kids archery shoot, too.
As far as the "travel" part of the Expo, there are some of the old standbys within the Empire State, such as the Thousand Islands, St. Lawrence County (where Black Lake and Waddington is), the Lake Ontario Sportfishing Promotion Council (including all seven counties along Lake Ontario) and the Chautauqua-Allegheny region. Outside the state, the Ohio travel pavilion is also popular, as are Virginia, New Jersey and Pennsylvania.
When you include the hunting and fishing outfitters and lodges, destinations expand exponentially. Montana and Kansas whitetails are always popular, black bear and deer in Maine, and elk, mule deer and mountain lions in Colorado.
Let's not forget our neighbors to the north: Canada. Now that things are starting to open up, how about a moose hunt in Newfoundland or a fishing adventure to remote lakes in Northern Ontario via Air Ivanhoe?
Speaking of Air Ivanhoe, Joel Theriault, a Canadian Immigration lawyer with the company, will be giving a seminar on everything you need to know when traveling into the country.
Seminars on shooting and hunting are scheduled. Ken Hammel, of Mountain Hollow Game Calls in Pennsylvania, will be giving talks on turkey calling that will include tips and tactics for bagging a big bird this spring. Bobby Hart will be back with seminars on long-range shooting.
There are other attractions that are worthy of mention, such as the state-record archery buck that Phillip Pless, of Newfane, tagged from Niagara County in 2020. The amazing buck wall from Hunting WNY is another display that will leave your head shaking … and dreaming.
From Deer Search and the WNY Chapter of Trout Unlimited to the local chapter of Safari Club International and Erie County Trappers, numerous organizations are available to discuss using their services.
The show will be open from noon to 8 p.m. Thursday and Friday, 10 a.m. to 8 p.m. Saturday and 11 a.m. to 4 p.m. Sunday. Take advantage of it and have some fun in the process. Check out https://eriepromotions.com/wny-sport-show/ to see the list of speakers and vendors.
Get local news delivered to your inbox!