EUGENE, Ore.— The number one draft pick for bar and restaurants for the big game on Sunday night is … beer!
At Sidebar in Eugene, bartender Abby Lytle said they've been preparing for weeks for the game.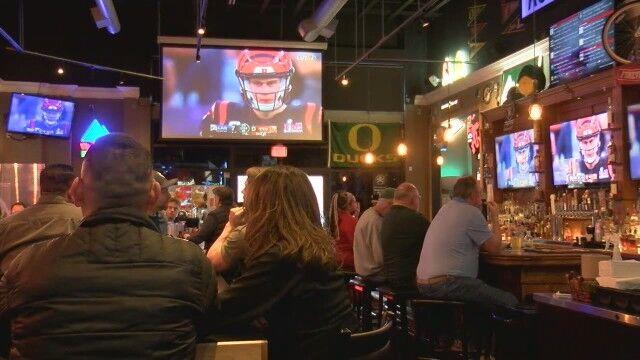 Lytle said the day of the big game is all about providing a good atmosphere, lots of food and plenty of drinks.
Sidebar even had a promo team giving away prizes like a camping chair and a little fire pit.
The bar has two large projectors plus a TV in each booth so no one can miss a second of the action.
"You can't miss it any where you sit in here, we got TVs, we'll have the sound on. We got a full staff. You're not going to miss a beer or a play," said Lytle.
Eugene resident Dan McAuliffe said he chose to come out and watch the game at Sidebar because it's close to home and he always has a good time here.
"They are great here, they have a lot of TV's, great choices of food and beer. It's just a great atmosphere," McAuliffe said.
McAuliffe said while his favorite team didn't make it to the big game, his stadium did. As far as who he's rooting for, it's a toss up. 
"My heart says Cincinnati, but my brain says Los Angeles," McAuliffe said.
Over at Hole in the Wall BBQ in Springfield, general manager Gary Rodgers said they see an increase in takeout orders on this day.
"We see an increase in takeout by about 40 to 50 percent," said Rodgers. "I think this year we're seeing that much just for the game itself."
Hole in the Wall BBQ is also prepping to draw more dine-in customers by creating a taproom.
Rodgers said he expects the area to be completed in the next few months.