3 hr 21 min ago
Biden administration considering moving more US troops further east in Europe
From CNN's Barbara Starr
The Biden administration is considering moving more US forces already in Europe to countries further east due to the massive Russian firepower so close to allies, according to a US official familiar with the matter.  
NATO has given the Supreme Allied Commander Europe, US General Tod Wolters, the authority to activate NATO defense stance, which would include the capability to activate the NATO Response Force, according to a US official and a European diplomatic source. 
"Today we activated NATO's defense stance that gives our military commanders more authority to move forces and to deploy forces when needed, and of course this can also be elements of the NATO response force," NATO Secretary General Jens Stoltenberg said Thursday. "We are ready, we are adjusting our posture but what we do is defensive, measured, and we don't seek confrontation. We want to prevent the conflict."
3 hr 58 min ago
Russian authorities warn citizens against participating in anti-war protests
From CNN's Vasco Cotovio
Russian authorities have told citizens not to participate in anti-war protests, the country's Investigative Committee warned in a statement on Thursday. 
"In connection with the spread of calls for participation in riots and rallies related to the tense foreign policy situation," the committee statement warned against the "negative legal consequences of these actions, which include prosecution and up to criminal liability."
"It should be remembered that holding a criminal record holds negative consequences and leaves a mark on the person's future," the Investigative Committee added.
2 hr 26 min ago
On the ground: Russian forces take control of an air base near Kyiv, Ukraine
From CNN's Matthew Chance and Aditi Sangal
Russian airborne troops have taken control of the Antonov Airport, which is about 25 miles away from the center of Kyiv, Ukraine, CNN's Matthew Chance reported Thursday.
"They've allowed us to come in and be with them as they defend the perimeter of this airbase, where the helicopter-borne troops were landed in the early hours of the morning to make and perform an air bridge to allow for more troops to come in," he reported.
The troops have an orange and black band on the arm of their uniforms to identify them as Russian forces, Chance added.
The commander of the unit told CNN there was a fire fight — presumably with the Ukrainian military, which says it is staging a counteroffensive to try and take back this airport.
Chance added, "We hearing some aircraft in the air … There is a plume of black smoke, gray smoke, brown smoke, coming up from inside the compound of the air base. I think there are jets in the sky above us."
1 hr 31 min ago
Ukrainian Interior Ministry says Russian helicopter shot down in Kyiv region, and CNN has geolocated footage
From CNN's Katie Polglase, Gianluca Mezzofiore and Anastasia Graham-Yooll
The Ukrainian Interior Ministry confirmed Thursday that one Russian helicopter and three other unknown helicopters were downed in the Kyiv region.
CNN has verified two social media videos showing multiple explosions and helicopters flying close to the ground in the city of Hostomel, just 25 kilometers (or about 15 miles) from Ukraine's capital of Kyiv.  
In the videos, several bangs and sparks can be seen in the residential area while helicopters fly close to the camera, with black smoke surrounding the sky.
CNN geolocated both pieces of footage to Hostomel. The videos appear to show the fighting the Ukrainian government has described in which it said one Russian helicopter was shot down, along with three other unknown helicopters.
It is unclear if the other three helicopters are Russian or Ukrainian. CNN is working to clarify.
4 hr 7 min ago
UN refugee agency steps up operations in Ukraine and neighboring countries
From CNN's Priscilla Alvarez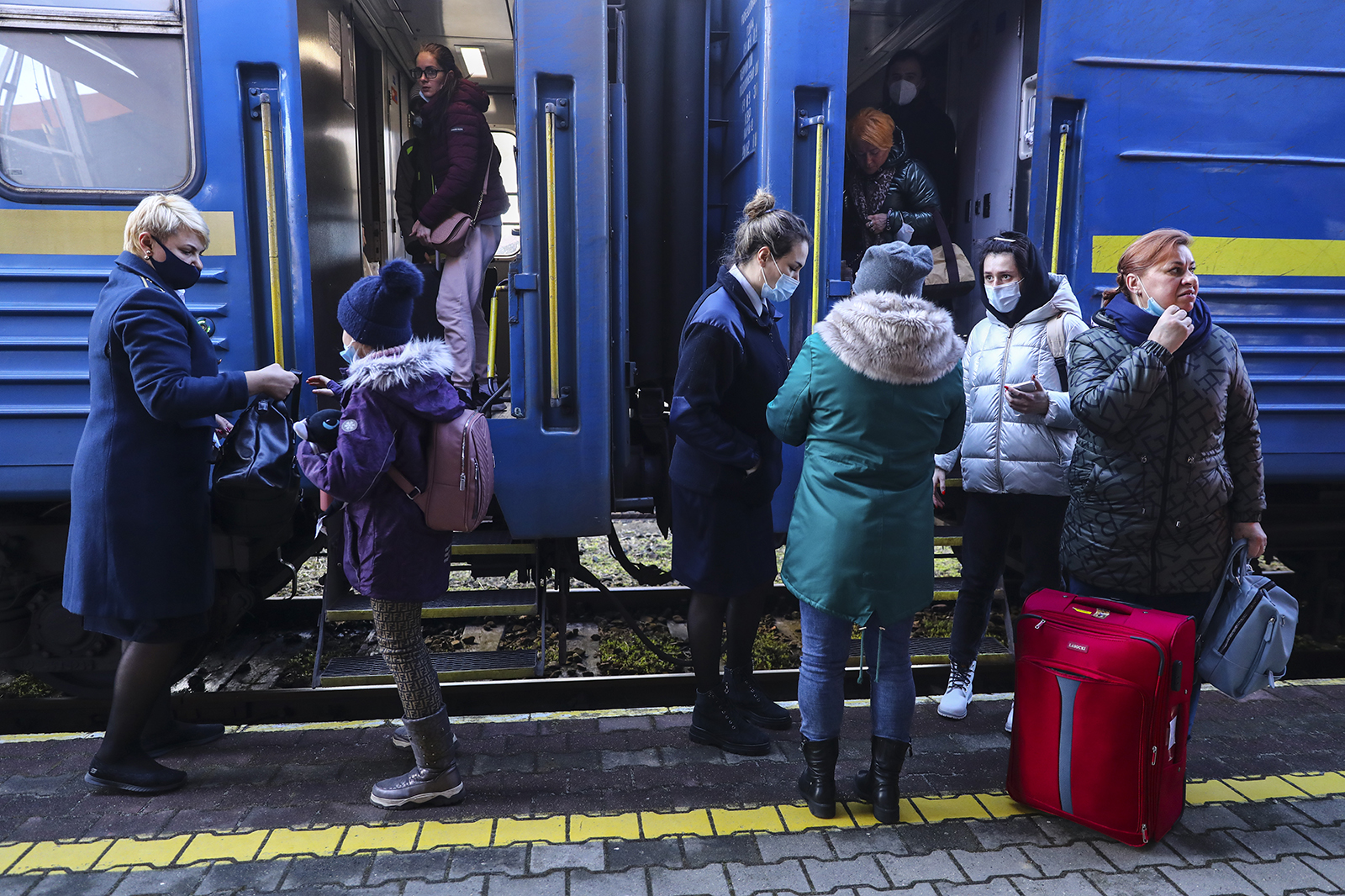 The United Nations refugee agency is stepping up operations and capacity in Ukraine and neighboring countries as people start to flee Ukraine, High Commissioner for Refugees Filippo Grandi said in a statement Thursday.
"We are gravely concerned about the fast-deteriorating situation and ongoing military action in Ukraine," Grandi said. 
"UNHCR is also working with governments in neighboring countries, calling on them to keep borders open to those seeking safety and protection. We stand ready to support efforts by all to respond to any situation of forced displacement," he added.  
3 hr 36 min ago
On the ground: Families in Kharkiv, Ukraine, crowd into subway station that has become impromptu bomb shelter
From CNN's Adrienne Vogt
Families, including young children and pets, crowded into a subway station that is serving as a bomb shelter in Kharkiv, Ukraine.
"It's just absolutely surreal. Yesterday, this would have been full of commuters making their way back and forth to work. Today, it has become an impromptu bomb shelter," CNN's chief international correspondent Clarissa Ward reported.
Ward said she and her team were outside and then heard a "series of thuds."
"People start[ed] to pour in here … These people are frightened. They're confused. They are desperately uncertain about what they're supposed to do, how long they can take shelter here, where they go from here," she said.
One woman told Ward she grabbed necessary items with her.
"Just documents and some money, and mostly we can't take cash because I'm not sure that I can pay by card now. And I'm not sure I can get anywhere from Kharkiv for now," she said.
She has a car, but she said she is not sure "be safe in Ukraine in any city."
Earlier, CNN's Fred Pleitgen witnessed rockets that appeared to be launched from the Belgorod region in Russia over the border near Kharkiv, as well as military vehicles headed toward the road leading to the city.
Watch CNN's reporting on the ground at the subway station:
4 hr 28 min ago
Biden convened a national security council meeting this morning on Ukraine 
From CNN's Betsy Klein
US President Joe Biden convened a meeting of the National Security Council Thursday morning in the Situation Room to discuss the latest developments in Ukraine, a White House official said.
As CNN reported, a number of top national security officials arrived at the White House earlier this morning. CNN observed national security adviser Jake Sullivan, Treasury Secretary Janet Yellen, Chairman of the Joint Chiefs of Staff Gen. Mark Milley, Defense Secretary Lloyd Austin, CIA director Bill Burns, and Vice President Kamala Harris arriving at the West Wing in the 7 a.m. ET hour.
CNN reported that Biden, vowing the world will "hold Russia accountable" for the attack underway in Ukraine, will spell out a set of sanctions on Thursday once meant to deter such an assault.
Set to address the nation at 12 p.m. ET, Biden is expected to unveil new measures that could cut off Russia from advanced technology, announce new restrictions on large financial institutions and slap sanctions on additional members of the inner circle of Russian President Vladimir Putin.
CNN's Kevin Liptak contributed reporting to this post. 
4 hr 5 min ago
Nigerian students say they feel abandoned in Ukraine
From CNN's Stephanie Busari in Lagos, Nigeria
While other governments are making plans to evacuate their citizens from Ukraine, Nigerian students tell CNN they have been essentially told: "You're on your own." 
Anjola-Oluwa Ero-Phillips said he and around 70 other Nigerian students are stranded with no way to legally leave Lviv in the west of the country, close to the border with Poland.
Abike Dabiri of the Nigerian Diaspora Commission told CNN that the country's foreign ministry will announce evacuation plans, but gave no timeline.
Dabiri also sent updated travel advice from the Nigerian foreign ministry asking Nigerian students in Ukraine to "remain calm but be very vigilant and be responsible for their personal security and safety."
Lviv is around 300 miles from Ukraine capital Kyiv where explosions were heard in the early hours of Thursday after Russian forces entered the country.
"There have not been explosions here but earlier in the day we heard the siren tests. Flights are cancelled and it's hard to get any taxis or Uber," medical student Ero-Phillips said of the situation in Lviv. 
"Everybody is at the ATM trying to withdraw cash but banks are not opening. Money is running out at the ATM and you can't do app transactions anymore," he added.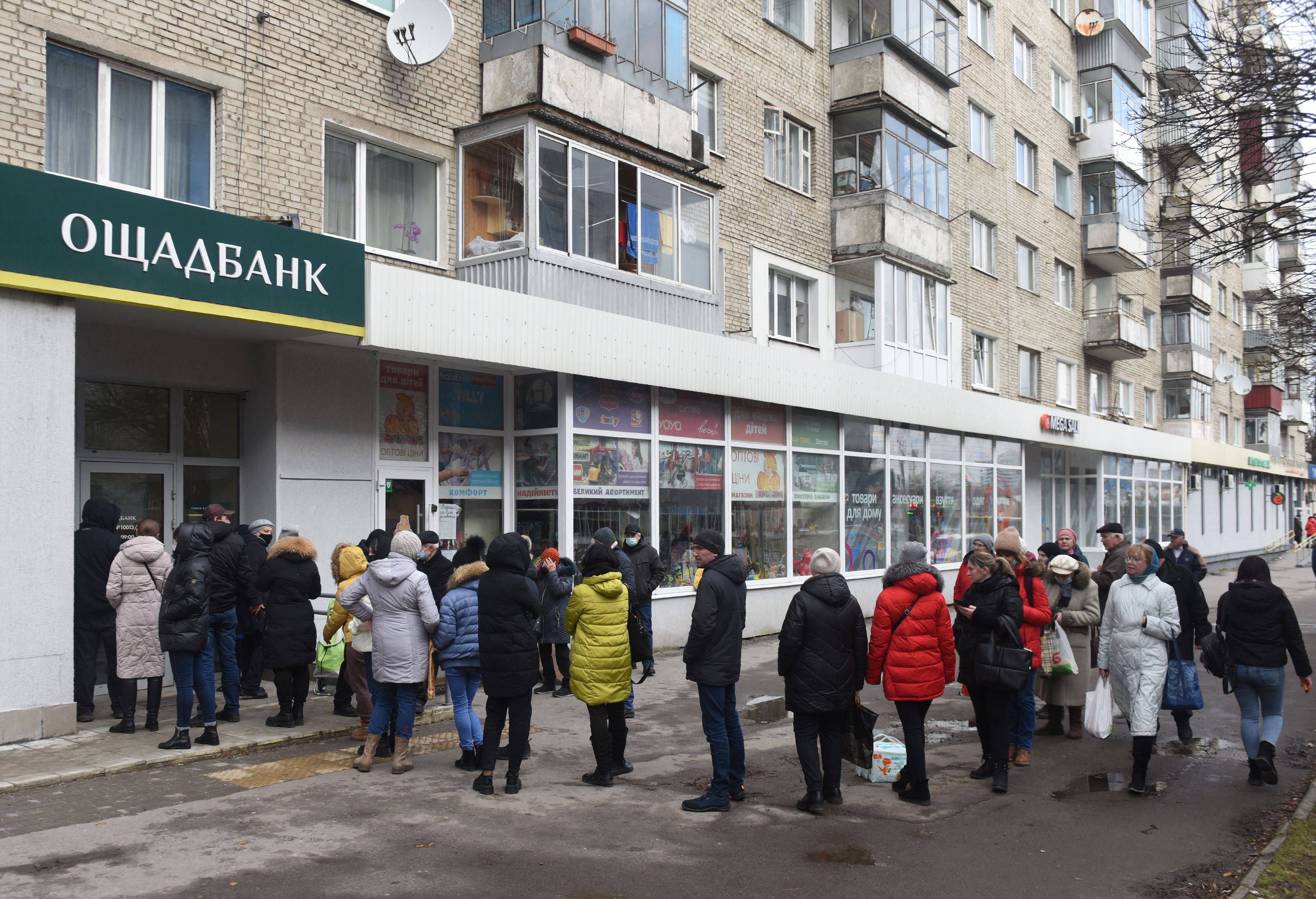 "Based on what I have heard from the Indian citizens, their government is trying to get free transit for them to the Polish border," Ero-Phillips said.
In an advisory Thursday, the Indian Embassy in Kyiv said arrangements were being put in place to evacuate Indian nationals and students.
"No one has any idea what to do. We have been reaching out to the Nigerian embassy since last month," said Ero-Phillips, who is president of the Lviv arm of the Association of Nigerian students in Ukraine.
4 hr 43 min ago
Lviv residents sought shelter underground early Thursday morning, deputy mayor says
From CNN's Aditi Sangal
As parts of Ukraine come under Russian offense, tensions have traveled to the other side of the country to Lviv, located in western Ukraine, deputy Mayor Andriy Moskalenko told CNN.
"In Lviv, we had this morning sirens. And so it was a sign for people to move to underground places. It was a potential threat," he said, adding that there were no explosions.
CNN reported residents lined out of banks and ATMs to withdraw money and at gas stations out of concern. The city has also instructed education to move online so children and university students can stay at home, the deputy mayor told CNN.
Otherwise, services and institutions are working as usual, he said.
"Right now, the city works as usual. We have water supply, heat supply, we have transport and banks and other institutions at work. We, together with state security service, the administration, with police, manage our work. So we have come to headquarters to provide services for our residents," Moskalenko told CNN.